Sports Management Careers
Athletic Coach
Athletic Director
Events Coordinator
Facilities Manager
Game Day Coordinator
Managing Consultant
Public Relations Manager
Sales Coordinator
Sports Mediator/Arbitrator
Tournament Planner
Sports Content Producer
Resort Manager
Sports Agent
Your Ticket to Sports Industry Careers
When it comes to getting your foot in the door in the sports industry, it's not enough to be an athlete or an avid fan. At Mid-America Christian University (MACU) in Oklahoma City, students who earn a Bachelor of Business Administration (BBA) with a concentration in sports management are ahead of the game. We've designed a program that provides students with the knowledge and skills to turn their passion for sports into behind-the-scenes careers where they'll help teams handle media relations, negotiate contract terms and trade deals, organize promotional events, and more. A degree in business with a sports management concentration can increase your earning power as the sports industry continues to grow in popularity. The job outlook in the multi-faceted industry is projected to grow 26% from 2020 to 2030, much faster than the average for all occupations.
The program provides a broad understanding of athletics management and gives a unique, bible-based perspective into the fast-paced world of sports industry management. You'll start with business basics and then incorporate coursework that includes Leadership and Ethics in Sports, Sociology of Sports, Sports Fundraising and Sponsorship, Sports Facilities Management, Sports Law, and Risk Management. With a comprehensive understanding of the inner workings of specific aspects of the industry, students can confidently enter the competitive job market prepared to be effective and ethical leaders in life and in any sports organization.
For hands-on experience in the business of sports, look no further than MACU's athletic program which boasts a strong tradition of competitive teams–and a number of recent national championships. Oklahoma City, home to several professional teams and host of many tournaments and sporting events, also offers opportunities for internships with different types of sports management.
A faith-based university, MACU is accredited by the Higher Learning Commission (HLC) of the North Central Association of Colleges and Schools (NCA).
A Safe Place to Discover, Find Your Passion & Grow
Located in the heart of a major city, students quickly discover that MACU is a small campus with a big heart. Our professors, staff and students are committed to creating a welcoming environment, and do everything they can to make sure everyone feels a sense of belonging. With on-campus clubs, groups, recreational opportunities, and more, it's easy to meet friends–those who share the same interests and others who might just introduce you to a new passion. On our campus of under 1,500 students, you'll never feel lost in the crowd as you find your purpose in life and grow in your faith.
The 25th largest city in the nation, Oklahoma City has the best of big cities–professional sports teams, acres of parks, arts and entertainment districts, diverse culture and outstanding restaurants–but maintains a friendly, small-town sense of community. Recently ranked in the top 15 major cities in terms of job growth, OKC offers many career-boosting opportunities for MACU students as well as an active job market for graduates. Benefits for on-campus/commuter MACU students include:
Small classes, accessible professors with real-world experience
Affordable, efficient path to degree completion
Safe campus with 24/7 monitoring and protection
Support services committed to helping students thrive and succeed
Located in an exciting, growing city with a flourishing job market
Faith-based clubs, weekly chapel services, student-led devotions
Academic, social, and recreational groups and activities
Competitive sports and esports teams
Faith is Integral to MACU's Game Plan
Ethical issues are a challenge in any industry but they can get particularly complex in the sports industry where the ultimate goal is winning.
In the competitive industry, MACU students stand out as servant leaders and people of character. With a Christ-centered education, students who earn sports business degrees are well-equipped with the skills and insight needed to tackle problems ethically, build trust, and make decisions based on biblical principles.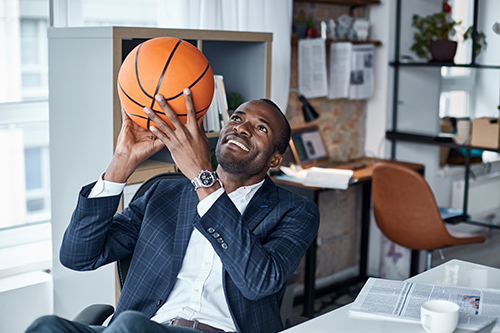 Courses
Students seeking a Sports Management concentration for their Business Administration and Ethics degree will complete the following courses in addition to their major BBA classes:
MKTG 3113
Sports Marketing
This course is designed to prepare students to develop skills necessary to address marketing issues specific to the sports industry. Student's will analyze the field of sports in terms of the practices, applications, and strategies of mainstream marketing.
SMGT 3113
Leadership and Ethics in Sports
This course examines the ethical issues individuals face in Sport Management settings. Emphasis is placed on ethical dilemmas sport managers encounter in the daily operation of commercial, recreational, and educational athletic programs. In addition, students study leadership theories and practices as they relate to sports organizations and its effects on employee motivation in an athletic setting.
SMGT 3123
Sociology of Sports
This course examines diverse way organized sports reflect and influence the values and social structures of society. Students analyze the major political, economic, and social functions of sports in historical and cross-cultural contexts. Topics include women and sports, violence, race and sports, and the changing functions of collegiate and professional athletics.
SMGT 3513
Sports Fundraising and Sponsorship
This course examines skills, strategies and techniques needed for successful revenue generation in the sport industry. In addition, students examine corporate sponsorship and its impact on the sports industry from a sales and marketing perspective.
SMGT 4123
Sports Facilities Management
This course is designed to provide learning experiences in managing sport facility operations, planning new sport facilities, and renovating and maintaining new facilities. An understanding of sports facilities, their design, and management will be gained through field study, speakers, and standard classroom material.
SMGT 4233
Sports Law and Risk Management
This course provides a presentation of the basic legal system, its terminology, and principles as applied to professional and amateur sports. Emphasis is on identifying and analyzing legal issues, the ramifications of those issues, and the means of limiting the liability of sport organizations