M.Ed. Administration Opportunities
Department Chair
School Administrator
Principal
Professor
Superintendent
Step Into P-12 Administration With MACU's Online Master's in Educational Leadership
Employees at Oklahoma schools receive a 10 percent tuition discount on their degree program.
Students and teachers in today's P-12 environment need administrators with a solid commitment to education and an ethical management approach. They need role models. School leaders have the potential to positively impact the lives of everyone on their campus.
Get prepared for a role as a principal, superintendent, administrator, or other school leader. A master's in educational leadership (M.Ed.) from Oklahoma City-based Mid-America Christian University (MACU) is the edge you need to advance in P-12 education. School leadership positions at the building level, and principals at every education level, are part of a job market expected to increase at a rate of 8% over the next twenty years.
Coursework in our online master's in education administration includes public school law and finance, evaluation skills, and research methods. Plus, as an integral part of MACU's curriculum, you'll gain leadership skills from a Christian perspective.
Program Information
A MACU Online M.Ed. Is Designed for Busy Teaching Professionals
MACU knows what it takes for working adults to fulfill their dreams—streamlined coursework with an abundance of support and interaction from professors and peers. Every course in our online education administration degree offers students opportunities to share ideas through discussion and to learn from the experiences of both their instructors and other program participants.
Additional benefits of this 33-hour online master's degree program include:
Just one course at a time every six weeks in a consecutive order with a cost of $440 per credit hour
No GMAT required for entrance
Instruction from Oklahoma educators and superintendents
Small classes and low student-to-professor ratio
Employees of any Oklahoma school district receive a 10% tuition discount
Although this degree is offered completely online, select courses may be offered on campus depending on student interest and faculty availability. MACU's program is accredited through the Higher Learning Commission (HLC) of the North Central Association of Colleges and Schools (NCA).
Superintendent Certificate Available
MACU also offers an 18-hour educational leadership and administration certification for students who already have a Master's in Educational Administration at the principal level. The program emphasizes ethical leadership, fiscal responsibility, social equity, and quality communication through curriculum and directed field experiences. The program is designed to meet national requirements of the National Educational Leadership Program (NELP).
Educational Leadership and Administration From a Christ-Led Perspective
Education administration can be challenging. At MACU, we also believe it's a calling. When you choose MACU for your M.Ed. in Educational Leadership and Administration, you'll grow not only in knowledge and skill, but also in your Christian faith. You'll be prepared to handle both everyday situations and unexpected scenarios with wisdom, confidence, and grace.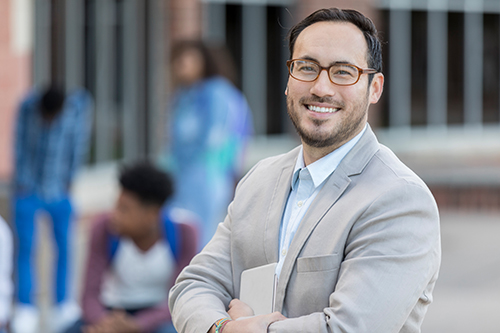 Courses
ENGL2303

World Literature Survey: The Ancient World to the Renaissance

This course is a study of both western and nonwestern literature from antiquity to 1650 with an emphasis on literary analysis, and the relationship between literature, historical setting and cultural milieus. Prerequisite: ENGL 1103 and ENGL 1203. Offered every fall semester.

GEOG2603

Human Geography

This course covers the major organizing concepts of economic and cultural geography. It explores people's geographic behavior in terms of spatial organization on the earth's surface, as well as their development of regional political systems. Offered every fall semester.

MATH1513

College Algebra

This course is a study of the processes of algebra, polynomials, algebraic fractions, graphing linear systems. It is designed for students planning to major in business and natural science programs. Prerequisite: ACT Score of 22 or above or complete MATH 1103 with a grade of "B" or approval of Instructor. Offered every semester

MUSI1113

Appreciation of Music and Fine Arts

Contribution of the arts in the historical past to the present. There is some discussion of methods and procedures involved in the creation of an "art."

PHIL2103

Introduction to Philosophy and Ethics

Students will be challenged to think critically, clearly, correctly, and comprehensively about their basic values and beliefs and to defend a biblically sound Christian worldview through an introduction to selected issues in logic, epistemology, metaphysics, worldviews, and ethics. Prerequisite: Sophomore standing. Offered every fall semester.

PSYC1103

Introduction to Psychology

An Introductory course designed to acquaint the student with a broad view of the field of psychology. It should introduce the student to the major concepts of the field including its history and development. Attention will be given to concepts such as learning, motivation, personality, stress, consciousness, intelligence and reasoning, as well as cognitive, social, moral and psychological development. Offered every semester.

UNIV1121

First Year Evangel

Designed for the first-year student, this course will explore the essential aspects of being a college student at MACU through the lens of a selected pop culture topic. Aspects to be explored include critical thinking, time management, goal setting, MACU's mission and vision, and the unique aspects of being a MACU student and earning a MACU degree. Required for all College or Arts and Science students unless waived by the Academic Dean or his/her designee. Offered every semester.

UNIV1123

Success at MACU

This course will include strategies to succeed in college and in life. The objective of the course is to improve student academic performance by empowering the student to become an active, responsible learner who will prosper in college. Required for all college of adult and graduate studies undergraduate students unless waived by the academic dean or his/her designee.