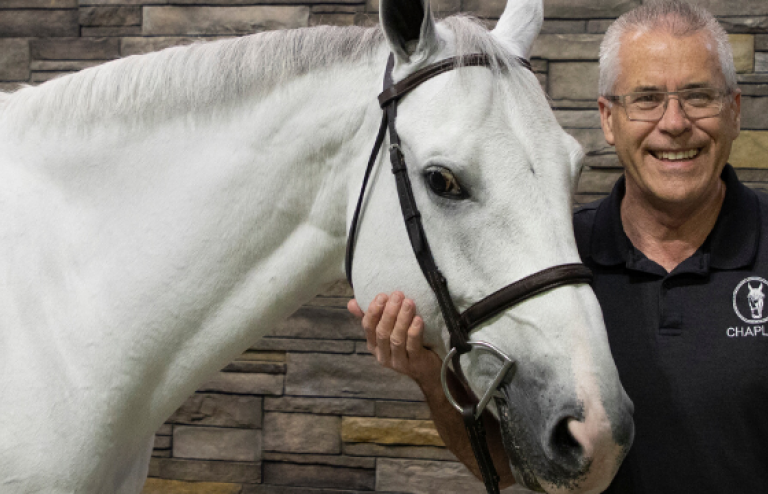 MACU Alum Reaches Thousands as Corporate Chaplain
When Rev. Larry Speelman enrolled at Gulf Coast Bible College in 1984, he didn't fit the typical profile of a college student — but then again, Speelman's life and ministry has been anything but ordinary.

Then a 20-something husband and father of two little girls, Speelman said he never planned on furthering his education after high school. But after touring the campus with Rev. Claude Robold, former MACU Board of Trustees Chairman, he felt God calling him to the school.

In a leap of faith, Speelman packed up his young family and everything they owned in a small U-Haul trailer and made the move from Wilmington, Ohio, to Houston to attend the school. He said it was a great time in his life, albeit a difficult one.

"I didn't have enough money when we got there to even take care of the gas and the first month's rent, but God always found a way to provide for us," he said. "It was a huge transition to go to Houston and leave everything behind, but when God puts a call on your life, you know it's what you're supposed to do."

Speelman said the family never missed a meal and eventually found stability. They even made the move to Oklahoma City with the university in 1985, and Speelman graduated from the newly-renamed Mid-America Bible College three years later with his degree in pastoral ministry.

He pastored a church in Colorado for five years after graduation, then held management positions in distribution maintenance for two companies before returning to full-time ministry in 2008.

Back home in Wilmington, he had been pastoring a local congregation for ten years when he answered an urgent call to prayer made by Roby Roberts, the CEO of freight shipping company R+L Carriers and owner of the World Equestrian Center, both headquartered in the small city.

Speelman was one of several local pastors invited by Roberts to rally around a young girl fighting a losing battle to brain cancer. Although the little girl lost her life, the impact she left behind prompted Roberts to surrender his own life to Jesus Christ.

He began to organize weekly services at the World Equestrian Center, with local pastors — including Speelman — rotating every Sunday.

The services started as something small, normally with groups of ten or less in attendance. But there was an apparent need for something on a larger scale, so R+L Carriers created the company's first corporate chaplain position — a role that Speelman currently serves in.

"Roby called me up and he said, 'It's you. I know it's supposed to be you. I don't want to take you from your church, but I sensed that you're not really happy where you are and you don't feel like you're doing what you need to be doing,'" he said. "He told me, 'We're going to take a lot of people to heaven and we're going to have a good time doing it.'"

This fall marked Speelman's first anniversary as full-time chaplain with R+L Carriers, which he described as a dream job.

"I've always enjoyed doing ministry that isn't necessarily packaged inside a church building," he said. "I am living a dream of ministry. I am doing exactly what I know God wants me to do; I am in the center of His Will. I am so blessed and so content."

R+L Carriers has over 13,000 employees across the U.S. and ships across all fifty states, as well as in Canada, Puerto Rico, the U.S. Virgin Islands and the Dominican Republic.

"It's an amazing thing. People are blown away when they come into the building and they get introduced to the chaplain," he said, adding that he believes it's something that every company could benefit from.

"I have a lot of people in my office on a regular basis who are struggling. Life is tough. Some folks don't have a spiritual background. They don't have a church family or a support system. So when they go through hard times, there is no place for them to turn. I have become a pastor to a lot of these people who don't have a church home."

Speelman said it makes a real difference to be able to counsel with and pray for people.

"I don't think I've had anybody turn me down to pray with them," he said. "It's a different kind of ministry."

Every Wednesday morning, Speelman holds Bible studies for R+L Carriers employees before they begin the work day. A hospitalstyle chapel is currently being built next to his office, complete with a custom cross, stained glass window and an altar that will allow employees and customers to pray.

The company makes Bibles and wooden crosses available to people who would like to have them. The wooden crosses are made out of olive wood from Bethlehem and small enough to fit in the palm of someone's hand when they need comfort or a reminder of God's love for them.

"People don't turn down a cross," Speelman said. "They'll turn down a tract, but they won't turn down a cross."

He recalled giving one of the tiny crosses to a waitress, who began to cry and confessed to him that she was ready to give up.

"It's just amazing what God will do with some very simple tools, through sharing His love with his people," he said. It's part of a company culture that sets R+L Carriers apart from most big corporations — and Speelman loves being a part of it.

"I am in awe that I get to be a part of this. This is not anything I planned. I am so blessed to have this position and to be here and meet all the different kinds of people I get to meet," he said.

"This is a trucking company. We have some of the most diverse people you're ever going to meet and we have a great time getting to know one another and understand everyone's different walks of life. God is doing some really neat things in peoples' lives through us, and it's an honor and a blessing to be a piece of it all."

On Sundays, you will find Speelman at the World Equestrian Center, where he holds two services for the exhibitors and the general public to attend. He shares a message from God's Word and prays with those who have needs. This has become the highlight of his week.

You can find Speelman's messages at www.worldequestriancenter.com under the Online Worship Service button.