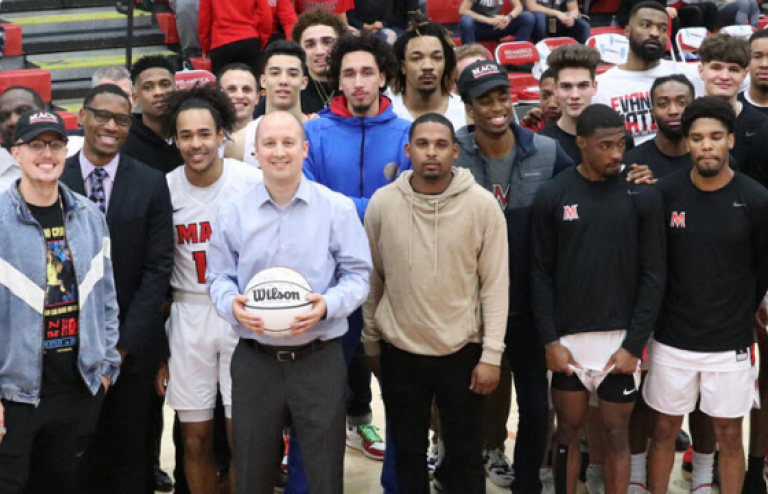 Men's Basketball Head Coach Josh Gamblin Honored for 100th Win
Before the start of the No. 2 MACU men's basketball game against Southwestern Christian on Thursday night inside the Gaulke Activity Center, Head Coach Josh Gamblin was honored for his 100th career victory.

With members of the four previous MACU men's basketball teams as well as former MACU Assistant Coach and current SCU Head Coach Brandon Rollins in attendance, Gamblin was presented a commemorate basketball signed by all of the current players of the MACU men's basketball team to honor the event.

Coach Gamblin picked up his 100th career win in a pivotal Sooner Athletic Conference matchup back on Jan. 4, as the Evangels hosted the 10th ranked team in the country, John Brown. The Evangels dominated on the defensive end, limiting the Golden Eagles to under 60 points for a 73-59 victory inside the Gaulke Activity Center.

In just his fifth season with the Evangels, Gamblin has led MACU to three 20-plus win seasons, including the program's first ever NAIA National Championship in his first season. At 27 years old, Gamblin became the youngest head coach to ever win a collegiate championship at a four-year institution. Heading into the game against the Eagles, Gamblin has amassed a 104-51 (.671) record at MACU.

Under Gamblin's tutelage, the Evangels are currently on a current 17-game win streak. It is the longest win streak since the 2003-04 season when MACU won 19 straight, culminating to a victory in the NCCAA Division II National Championship, the third in the program's storied history.