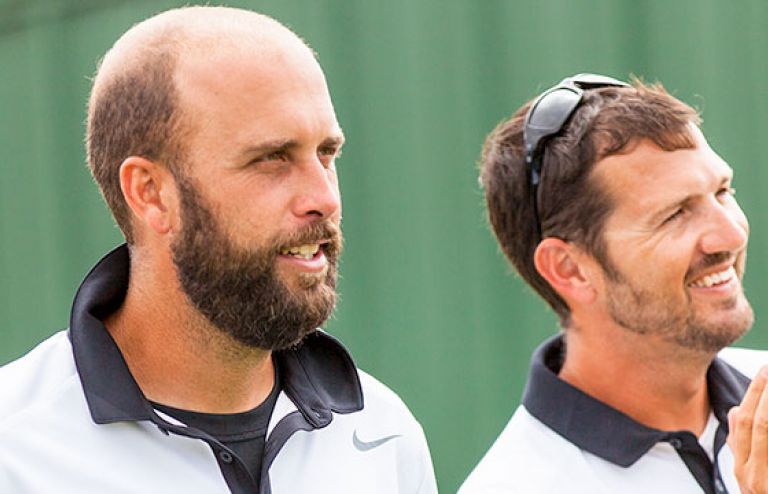 Shay Resigns as Sports Info Director
OKLAHOMA CITY– The Mid-America Christian University Department of Athletics announced on Thursday that Tim Shay has resigned from his position as Sports Information Director to take on a position across town as Assistant Athletic Director at Southern Nazarene University.
"The opportunity came up, and one of the first people to encourage me to apply for it was Athletic Director Marcus Moeller," Shay said. "I have to thank him right off the top, because he has been absolutely tremendous to my family and myself these last two years. Of course, I also want to thank President Dr. John Fozard and the rest of the great people here at MACU — the list is too long. My experience at MACU has been truly awesome. I am forever grateful to God for leading me here and to all the wonderful friends I have made in my two seasons."
In the last two seasons, Shay led saw the Sports Information department make tremendous strides in the coverage of MACU's nine teams. He oversaw the improvement of MACU's broadcast offerings, an area of passion for him. He took on duties broadcasting some away games for all sports, attempting to travel with each of the teams in each season.
This coincided with the improvement of MACU's home video offerings, as Shay brought play-by-play descriptions to home events in each of MACU's team sports — some of them for the first time in program history.
Shay also helped upgrade MACU's social media presence — something he credits Moeller for taking the lead on and helping to provide the resources to ensure the success of the efforts.
"Marcus came to me and asked me to look into a way to improve our game day graphics," Shay said. "That is what led us to ScoreShots. That was a game-changer for us on social media, and I know that will continue to be a primary feature of MACU's social media accounts.
Perhaps the biggest achievement Shay helped oversee at MACU was the launch of the www.macuathletics.com website on July 31 of this year, the first redesign since 2010.
Shay worked with Moeller and MACU Vice President of Operations Jody Allen to move the website to SIDEARM sports, which allowed MACU to bring many things to the athletic website that they never had the option to utilize before. This includes XML stat integration, which will help automate MACU's record books on the site.
"Tim has a tremendous job in his two years as our SID," Moeller said. "He has really increased the capacity of what we're capable of as we go about celebrating and promoting our incredible student-athletes. I'm excited for him and his family to have this great opportunity at Southern Nazarene and wish them nothing but the best."
With fall sports right around the corner, MACU will immediately begin looking for Shay's replacement. The position will oversee the promotion of MACU's seven teams going forward: men's and women's soccer, women's volleyball, men's and women's basketball, baseball and softball.
"I wish Marcus, the coaches and administrators well as they get going for another season," Shay said. "It was a blast getting to cover the championship teams we have had, the record-setting players and coaches and telling the stories of the student-athletes who have had a tremendous impact on me and my family. I may be moving on, but MACU will always have a special place in my heart."