Business Administration Careers
Sales
Marketing
Human Resources
Real Estate
Project Management
Compliance
Entrepreneurship
Preparation for MBA
Systems Analyst
Information Technology Manager
Data Modeler
Technical Support Specialist
Project Manager
Earn Your Bachelor's Degree in Business Administration at MACU
To succeed in today's fast-paced, ever-changing world of business, you'll need a competitive edge. With an accredited online Bachelor's degree in Business Administration (BBA) and Ethics from Mid-America Christian University (MACU), you'll stand out with the knowledge, practical skills and work ethic companies desire and value. The future is bright for Business Administration graduates as employment in business and financial operations occupations is projected to grow 8 percent between 2020 and 2030. The versatility of the degree translates into a lifetime of employment opportunities and the potential for high earnings.
Technical and Soft Skills Emphasized in MACU's BBA
MACU's BBA features a curriculum based on core business concepts that will help students develop both technical and soft skills. Students will take courses such as accounting, legal environment, software applications and marketing in order to acquire a broad understanding of the general operations of a business. Other courses will center on writing, communication and time management–making students well-rounded, versatile candidates for a variety of lucrative careers.
When you earn your Bachelor of Business Administration at MACU, you'll find that the focus is less on lectures and more on simulation, real-life case studies, discussion and collaboration with other students and professors who are experts in their field.
MACU Offers Seven In-Demand BBA Concentrations
Increase the value of your Bachelor of Business Administration—and your career marketability—by choosing one of our seven practical BBA concentrations. Most are also available as full bachelor's degrees.
Cultivate ministry skills and influence others for Christ in any location and situation.
Develop skills for many options open in communication, including advertising, marketing and public relations.
Combine business and math with information technology: data mining, optimization, simulation & more.
Learn digital marketing skills plus market econ, consumer behavior, business finance, accounting & more.
Master principles & application of management in day-to-day administration of healthcare organizations.
Understand IT trends and implement emerging MIS technology, services, and practices to benefit and strengthen businesses.
Turn sports passion into a career, handling media, contract & trade negotiation, promotional events & more.
Program Information
Earn Your Business Administration Degree Online: Accelerated, Affordable & Convenient
Since 2008, MACU has offered accredited online degree programs that help busy students jumpstart their career or advance in their profession.
You can earn your Business Administration degree online, (and the optional MIS online degree emphasis) while still working and honoring family commitments. The program is designed to help adults successfully earn an accredited, accelerated, affordable online degree. Our professors and staff strive to provide a supportive learning environment and are committed to making students feel like members of the MACU community. Here are some of the ways our online management degree classes can help you save money and finish faster:
Just one class at a time in a consecutive order
Up to 30 credits (per year) for life experience (volunteering, community service, etc.)
Eligible military service training can be applied as course credits
Minimal upfront costs, including no initial book fees
Free placement testing
Full support–including tutoring and student services
As you prepare to begin your degree at MACU, our enrollment counselors are ready to assist you. Please take a look at this downloadable degree sheet, featuring an overview of MACU's Business Administration and Ethics degree program. Don't hesitate to reach out by emailing [email protected] or calling 888-888-2341 if you have any questions.
Prep for Wide Range of Careers with On-Campus BBA Degree
The demand for those who excel at business is strong. Regardless of what career path lies ahead, MACU's BBA is a launchpad for career and personal success. The work students do on this degree is only enhanced by the social opportunities on campus, from sports to faith-based clubs and groups. Add in a caring faculty team and the scene is set for growth, both intellectual and spiritual.
Located in the heart of Oklahoma City, with its strong job market and a strong Christian community, studying at MACU gives you access to activities both on campus and in the city, including national sports teams, a vibrant downtown shopping area, restaurants, and outdoor adventures that range from hiking to whitewater rafting.
Additional advantages of an on-campus degree program at MACU include:
A streamlined degree completion plan that's affordable
Low faculty-to-student ratio
A campus that values safety and security
Support services, including tutoring, so students can thrive
Recreational, academic, and faith-based activities and groups
Competitive sports and esports teams
MACU's Bachelor's Degree Business Majors Stand out As Professionals & People of Character
MACU believes in educating students who go on to excel as professionals and also as ethical people whose actions are based on biblical truths. The Business Administration degree program features:
Holistic evaluation of students
Christ-centered curriculum that integrates ethics into every course
Advisory board comprised of business leaders from around the region
Professors with real-life experience and expertise in their subject matter
Real-world case studies and concepts
Assessment beyond grades by considering the strengths and work ethic of a student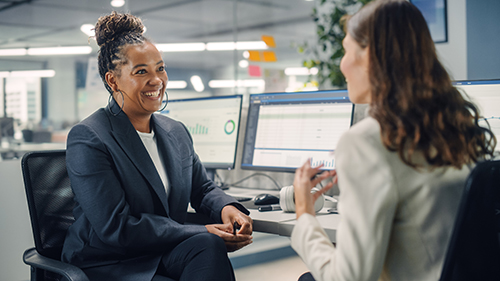 Major Courses
ACCN 2103*
Principles of Financial Accounting
Fundamental accounting relationships; completion of the accounting cycle; accounting process for merchandising enterprises; receivables, payables, and inventories; deferrals, accruals, and intangible assets; and
formation.
ACCN 2203*
Principles of Managerial Accounting
Accounting systems, concepts, and principles; formation, organization, and operations of corporations and partnerships; departments and branches, statement analysis, cost, and management.
BUAD 3403*
Business Finance
Financial principles and functions with applications to business organizations, including investment, dividend decision, and an introduction to the models and tools used for financial analysis.
BUAD 4103
Legal Environment of Business
Law and the legal system, social forces that make the law, business response to the social and legal environment; governmental regulation and federal regulatory agencies which impact business decision-making; the study of the legal concepts of torts and contracts.
BUAD 4303*
Human Resource Administration
Human relations and adjustment in all forms of institutional and business organizations. The course deals with such problems as proper placement of the individual, training, incentive, methods of supervision, discipline,
promotion, and retirement.
BUAD 3213*
Applied Business Management
Human relations and adjustment in all forms of institutional and business organizations. The course deals with such problems as proper placement of the individual, training, incentive, methods of supervision, discipline,
promotion, and retirement.
BUAD 4103
Group and Organizational Communication
An introduction to the concepts of effective oral and written communication to include functioning in teams and other organizational settings as well as interpersonal exchanges.
BUAD 4413
Strategic Management
This course introduces the strategic, tactical, operational issues that arise in the management of production and service operations; product and process design, facilities planning, quality management, materials management, operations planning and scheduling, emerging technologies in production and service management. This serves as a capstone for the program.
BUAD 4433
Managing Change
An inherent aspect of leadership is managing change. This course will explore the various change theories and available options for designing, implementing and managing change. The students will learn how to develop their own change protocols, lead people through turbulent times including lay-offs due to downsizing and outsourcing, and be a bastion of hope and support exhibiting a Christ-like attitude to one's employees
MKTG 3103*
Principles of Marketing
An introduction to the marketing of goods and services in advanced market economics; study of the marketing mix, pricing, distributional activities, consumer behavior, and marketing research.
*Courses are required for an optional concentration in Business Administration in one of the following Bachelor's degree programs: