Online or On-Campus, Find Your Focus with an AA in General Studies Degree
When you earn an Associate of Arts (AA) in General Studies degree at Mid-America Christian University (MACU), you'll have the knowledge and skills you'll need to get your foot in the door at your dream job as well as a strong foundation if you decide to pursue a bachelor's degree. A General Studies Associate degree is a step toward a brighter job outlook as workers with an associate degree typically have higher earnings and a lower unemployment rate when compared to those whose highest level of education attainment is a high school diploma. A faith-based university, MACU is accredited through the Higher Learning Commission (HLC) of the North Central Association of Colleges and Schools (NCA) and offers on-campus courses as well as an associate online degree to fit the lifestyle needs of its students.
Our Associate in General Studies degree is an ideal option for students who want a well-rounded, comprehensive education but need time to explore, develop versatile skill sets and discover career paths that fit their interests and talents. The coursework centers on broad-based liberal arts courses such as communications, science, social studies, math and more–which will make you suited for a wide range of career opportunities. In fact, two of the top three skills employers desire are communication and problem-solving which are both characteristics of a General Studies degree. In addition to a required orientation (1-3 hours) and electives (19 hours), the AA General Studies degree requires the following core courses (40 hours):
Bible/Theology
Communications
U.S. History and Government
Science
Math
Social Studies
Humanities
General Studies Careers
Teller
Customer service representative
Secretary or administrative assistant
Financial clerk
Social Media Manager
Insurance sales agent
Retail sales worker
Travel agent
Wholesale/manufacturing sales rep
Technician's assistant
Paralegal
Program Information
An Associate Online Degree Offers Busy Students Affordability & Convenience
An online General Studies degree is an excellent option for busy students who have family and work commitments. Since 2008, MACU has offered fully accredited associate degrees online, allowing students a flexible way to study in a way that fits their lifestyle. Here are just some of the ways MACU will work with you to help you reach your goals quickly, affordably and conveniently:
Only take one class at a time, in consecutive order
Up to 30 credits (per year) for life experience (volunteering, community service, etc.)
Eligible military service training can be applied as course credits
Minimal upfront costs, including no initial book fees
Free placement testing
Full support–including tutoring and student services
We make every effort to help you feel like a member of the MACU community. You'll discover that our online program makes it easy for students to build connections with professors and form bonds with classmates.
Earn Your AA On-Campus & Take Advantage of Life-changing Opportunities
At MACU, you'll find many ways to dream big in our close-knit community. With an on-campus population of less than 1,500, you'll see familiar faces everywhere as you explore your passions with our accessible professors, staff and fellow classmates. Our safe, caring, faith-based campus environment provides the encouragement and support students need to grow into the best versions of themselves. Do what you love or try something new–MACU has a wide variety of clubs, groups, activities and recreational opportunities.
Just steps off campus to take advantage of all Oklahoma City has to offer. One of the top cities in the country for job seekers, the 25th largest city in the U.S. has something for everyone, no matter your interests. You'll love exploring the state capital which lives up to its nickname, The Big Friendly. A thriving restaurant scene, beautiful parks, growing arts and entertainment districts, and national sports teams are just a few of the things to love about OKC. MACU benefits for on-campus students include:
Affordable, efficient path to earning a degree
Low faculty-to-student ratio
Small campus community with 24/7 safety monitoring
Diverse, metropolitan location with abundant career and social activities
Competitive (Men/Women) sports and esports program
Personalized, supportive services help students succeed & thrive
Extracurricular and faith-based activities, groups and clubs
MACU's General Associate Degree Encourages Discovery That's Rooted in Faith
We want to help our students find their purpose in life, grow in their understanding of God's diverse world, and achieve their full potential as servants of Christ. Biblical studies classes are incorporated into the AA degree. At MACU, students also have many opportunities to grow spiritually, including weekly chapel services, student-led devotions, one-on-one and small-group discipleship sessions, and faith-based campus clubs.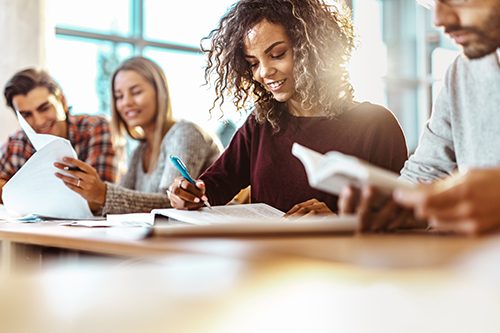 Courses
ENGL2303

World Literature Survey: The Ancient World to the Renaissance

This course is a study of both western and nonwestern literature from antiquity to 1650 with an emphasis on literary analysis, and the relationship between literature, historical setting and cultural milieus. Prerequisite: ENGL 1103 and ENGL 1203. Offered every fall semester.

GEOG2603

Human Geography

This course covers the major organizing concepts of economic and cultural geography. It explores people's geographic behavior in terms of spatial organization on the earth's surface, as well as their development of regional political systems. Offered every fall semester.

MATH1513

College Algebra

This course is a study of the processes of algebra, polynomials, algebraic fractions, graphing linear systems. It is designed for students planning to major in business and natural science programs. Prerequisite: ACT Score of 22 or above or complete MATH 1103 with a grade of "B" or approval of Instructor. Offered every semester

MUSI1113

Appreciation of Music and Fine Arts

Contribution of the arts in the historical past to the present. There is some discussion of methods and procedures involved in the creation of an "art."

PHIL2103

Introduction to Philosophy and Ethics

Students will be challenged to think critically, clearly, correctly, and comprehensively about their basic values and beliefs and to defend a biblically sound Christian worldview through an introduction to selected issues in logic, epistemology, metaphysics, worldviews, and ethics. Prerequisite: Sophomore standing. Offered every fall semester.

PSYC1103

Introduction to Psychology

An Introductory course designed to acquaint the student with a broad view of the field of psychology. It should introduce the student to the major concepts of the field including its history and development. Attention will be given to concepts such as learning, motivation, personality, stress, consciousness, intelligence and reasoning, as well as cognitive, social, moral and psychological development. Offered every semester.

UNIV1121

First Year Evangel

Designed for the first-year student, this course will explore the essential aspects of being a college student at MACU through the lens of a selected pop culture topic. Aspects to be explored include critical thinking, time management, goal setting, MACU's mission and vision, and the unique aspects of being a MACU student and earning a MACU degree. Required for all College or Arts and Science students unless waived by the Academic Dean or his/her designee. Offered every semester.

UNIV1123

Success at MACU

This course will include strategies to succeed in college and in life. The objective of the course is to improve student academic performance by empowering the student to become an active, responsible learner who will prosper in college. Required for all college of adult and graduate studies undergraduate students unless waived by the academic dean or his/her designee.