Communication Career Opportunities
Advertising Creative
Brand Manager
Broadcaster
Content Creator
Editor
Freelance Writer or Journalist
Marketing Specialist
Podcaster or Webcaster
Public Relations or Social Media Specialist
Speech Writer
Technical Writer
A Communications Degree That Opens Career Doors You May Have Never Considered
A communication degree could be the starting point that lands you a career you can't even imagine today. That's because communication is a skill valued across every industry and at every job level. It's also a necessary part of the growth of every profession. Direct growth within the communication and media fields is expected to be 14 percent during the next decade as the demand for communication specialists continues to rise.
At Mid-America Christian University (MACU), the communications degree consists of a three-tiered program divided into media studies, public relations, and social media. Students learn the skills needed to master emerging communication channels to ensure their words stand out on crowded platforms. The program reaches beyond the theoretical. Practical applications include the ongoing creation of a digital portfolio of work. Graduates have the skills required to write for websites, blogs, advertising agencies, and PR firms among the thousands of options open to communication degree holders.
Communication is also available as a concentration as part of either a Bachelor of Business Administration (BBA) or a Bachelor of Science in Management & Ethics.
A BS in Communications Degree Completed Online Is a Natural Fit
Online learning is not new to MACU. It's been a part of the University since 2008. Your degree is earned one five-week course at a time, taken in consecutive order. It's a simple step-by-step program that can fit into any busy schedule.
When you consider the volume of communication taking place online in the world today, it seems only fitting that your degree in communication revolves around online courses designed to propel you forward in a growing field. You'll gain an understanding of and confidence in the rapidly changing communication landscape, from digital writing to social media management. The goal is a methodical, forward momentum on your career path.
Here's how MACU saves you money and helps you complete your degree faster online:
Earn as many as 30 credits for life experience
Apply your military service and training as course credits
Free placement testing
Student services and tutoring available every step of the way
Upfront costs are minimal, including no initial book fees
As you prepare to begin your degree at MACU, our enrollment counselors are ready to assist you. Please take a look at this downloadable degree sheet, featuring an overview of MACU's Media Production and Communication degree program. Don't hesitate to reach out by emailing [email protected] or calling 888-888-2341 if you have any questions.
Prep for Wide Range of Careers with On-Campus Bachelor's Degree in Communication
The demand for those who excel at communication is universal. Regardless of what career path lies ahead, MACU's BS in Media Production and Communication is a launchpad toward success. The work students do on this degree is only enhanced by the social opportunities on campus, from sports to faith-based clubs and groups. Add in a caring faculty team and the scene is set for growth, both intellectual and spiritual.
And it all takes place in the heart of Oklahoma City with its strong job market and a strong Christian community. Activities in the city include national sports teams, vibrant downtown shopping and eateries, and outdoor adventures that range from hiking to whitewater rafting.
Additional advantages of an on-campus degree program at MACU include:
A streamlined degree completion plan that's affordable
Low faculty-to-student ratio
A campus that values safety and security
Support services, including tutoring, so students can thrive
Recreational, academic, and faith-based activities and groups
Competitive sports and esports teams
A Communication Degree with Ethics at Its Core
We live in a world where communication is valued but treated with a great deal of skepticism. What better way to move forward with your communication career goals than with a Christ-centered degree giving you the ethical edge employers are seeking.
MACU programs, both online and on-campus, create leaders with strength of character as well as intellect. Dedication to Christ shines through in all our coursework, in our instructors, and in our student body.
MACU is accredited through the Higher Learning Commission (HLC) of the North Central Association of Colleges and Schools (NCA).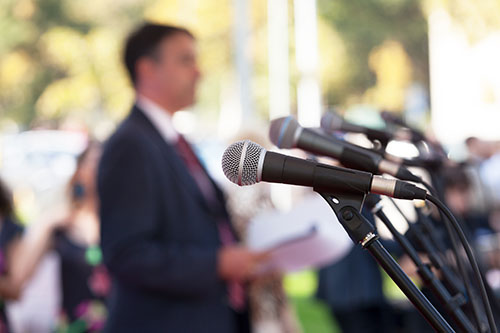 ---
Should you get a Communication degree?
If you love connecting with people, uncovering stories, and sharing ideas, an on-campus or online degree in communication could be a perfect fit. This versatile credential teaches the writing, speaking, critical thinking, and research skills that today's employers prize.
With a bachelor's in communications, you'll gain real-world experience creating campaigns, writing stories, managing events, and more. These skills make graduates ideal candidates for careers in public relations, journalism, marketing, consulting, and beyond. You'll graduate career-ready with a flexible degree that can open doors across industries.
Communications degrees also establish a strong foundation for leadership roles. When combined with decision-making and organization skills, time management, and emotional intelligence, a refined ability to express yourself can drive success in management. Stand out at companies looking for strategic thinkers and collaborators ready to solve problems creatively.
MACU offers on-campus, online communication programs
As with all the best communications undergraduate programs, MACU's bachelor of science in communication develops exactly these abilities. You can even couple a degree in business with communication at MACU. Both our on-campus and online programs immerse you in the latest and most effective communication methods to help you engage audiences and make an impact.
Join a thriving community of professionals prepared to take on today's challenges. Apply now to start honing your skills for the career you want. The possibilities are endless with a MACU communication degree.
Benefits of a Communication Degree
Develop your communication skills. A communication degree will teach you how to write clearly and concisely, speak effectively, and listen attentively. These skills are essential for success in any career.
Gain real-world experience. MACU's communication program will help you get connected to internships and other opportunities for hands-on experience in this field in Oklahoma City and beyond. This experience can help you land a job after graduation.
Expand your network. Communication programs typically bring together students from a variety of backgrounds. This can help you expand your network and make connections that could lead to future opportunities.
Open up a world of career possibilities. A communication degree can lead to a wide range of careers, including advertising and marketing, PR and media relations, corporate communications, education, government, and in the nonprofit sector.
If you're interested in a career in communication, a bachelor's degree is a great way to get started. MACU's Bachelor of Science in Communication, Media, and Ethics can help you develop the skills and experience you need to succeed.
What kind of job opportunities are there for someone with a BS in Communication?
Any organization across the globe that must communicate its values, products, and services to internal and external audiences needs to employ skilled communicators, especially those equipped with practical skills and high ethical standards. The MACU communication program includes the study of ethics for that reason.
This versatile degree provides graduates with skills that are valued across many industries, making communicators uniquely qualified for numerous roles. Some of the top jobs obtained with a communication degree include:
Public Relations Specialist–Communicators are perfectly suited for public relations roles that manage an organization's reputation and relationships with the public. PR specialists create campaigns, interact with media outlets, and leverage stories to build brand awareness.
Marketing Specialist–Strong communicators have an edge in marketing fields where they promote companies, products, or services through content creation, event management, social media engagement, and more. Marketing requires connecting with target audiences.
Corporate Trainer–The teaching and public speaking skills gained through a communication program allow graduates to thrive as corporate trainers developing employee skills. Trainers create presentations, lead workshops, design training programs, and evaluate progress.
Technical Writer–A knack for translating complex information into clear, focused writing is prized by technology firms seeking technical writers. Technical writers create instruction manuals, how-to guides, website copy, and other technical documentation.
News Reporter–For those who love writing and have an investigative spirit, journalism offers an exciting path to uncover and share impactful stories with the world. Broadcast or print journalism is a common choice for communication degree holders.
Digital Content Manager–Communications grads are naturals for roles creating and organizing digital content across an organization's online platforms like websites and social media. Content managers understand how to produce engaging content that connects with audiences.
Some additional, lesser-known job opportunities for communication majors can be found in government, education, and nonprofit sectors:
Policy Analyst–Research and analyze data to write reports informing policy decisions. Communicators have the writing and critical thinking abilities needed for policy analysis.
Legislative Assistant–Work alongside legislators drafting speeches, compiling data, communicating with constituents, and preparing public statements.
Grant Writer–Write proposals securing funding for government programs and services. Strong writing and ability to follow guidelines are key skills grant writing requires.
Academic Advisor–Guide students through academic program requirements and counsel them on achieving education goals. Advisors should communicate clearly and relate well to students.
Instructional Designer–Develop educational curriculum, training programs, and learning content for schools or universities. Communication skills are vital for instructional design roles.
Development Director–Lead fundraising initiatives through donor outreach and grant proposals to support an organization's mission. Communications abilities enable clear donor relations.
Volunteer Coordinator–Recruit, train, and manage an organization's volunteers. This requires coordinating, motivating, and communicating with diverse groups.
Community Educator–Plan and conduct public outreach programs informing communities about health, environmental, or other nonprofit causes. Skilled communicators can simplify complex topics.
The wide-ranging expertise gained through a degree in communication opens doors to diverse industries. With their versatile skillset, communicators can thrive in virtually any business, providing tremendous worth across sectors.
Should I get a communication degree online?
MACU offers many advantages to pursuing a communication degree online. In addition to our life experience credits and course credits for military service, consider some additional key reasons to study communications online:
Flexibility–Online programs like MACU's offer flexibility to fit education into an existing work schedule and life commitments. Students can access lectures and complete assignments whenever and wherever is convenient.
Cost Savings–On campus housing and commuting costs are eliminated with online education. Overall, tuition at MACU is lower as well. Online programs provide affordable access to degrees.
Networking–Quality online programs like MACU's enable networking with peers and faculty through online forums, video conferencing, and other digital engagement tools. Geographic barriers are removed. Plus, OKC is one of the nation's fastest growing cities, and MACU can help you make connections here no matter where you live.
Real-World Preparation–Online communication programs mimic real-world remote work environments. Students build skills using digital tools for collaboration, content creation, and connecting virtually that transfer to modern careers.
Customization–Students at MACU can choose electives and specializations, allowing you to customize our communication program to achieve your career goals.
No Disruption–Those with work or family obligations can earn their degree from home without disrupting work or uprooting family to relocate for school. Online education enables continuous career progress.
With abundant advantages, flexibility, and career-focused preparation, earning an accredited online communication degree empowers students to gain a valuable credential on their own terms. The skills gained translate seamlessly into today's remote-friendly workplaces.
Learn more about MACU's well-established online learning environment.
Major Courses
COMM 2113
Foundations of Communication and Media
This course introduces a variety of communication perspectives and encourages students to analyze how mass media influences individuals and groups in ways that help shape society. Students would expand their media literacy through a critical evaluation of mass media including, journalism, television, the entertainment industry, publishing, advertising, radio, Internet, and social media. By course end, students would have a firm understanding of mass communication as a social, political, cultural and economic force in modern society.
COMM 2133
Introduction to Podcasting
This course is designed to provide students with a practicum approach to the background, techniques, and guidelines for conceptualizing, researching, and developing digital audio content. Students should gain access to processes that range from idea pitches, pre- and post-production routines, how to craft segments, develop intros/outros, and the process of navigating interviews. Finally, students will have the opportunity to develop and submit digital content to be considered for programming distribution on one of the University's affiliated podcast platforms.
COMM 2143
Digital Media Literacy
Digital Media Literacy offers a foundational introduction for better understanding how mass media and mediums create, disseminate, and even manipulate knowledge and information, for good and for ill. Students would engage in a survey of readings curated to deepen visual, cultural, and linguistic "literacy" as a method for better understanding how the Internet and digital cultures augment reality to shape communication. Assignments and readings intentionally reflect the messy nature of contemporary media, and students would gain access and exposure to a wide spectrum that combines digital journalism with scholarly publication.
COMM 2803
Multimedia Storytelling
This course serves as an introduction to and an examination of the various writing styles and content creation techniques to communicate multimedia storytelling in our digital age. Students would learn how to meet the demands of the marketplace for persuasive, professional writing skills for broadcast, print, web, or social media. The course will include opportunities to develop story forms and prepare them for industry publication and/or distribution .
COMM 3233
Media Law and Ethics
Students are introduced to legal and ethical practices in the public relations discipline. Copyright, liability, and contracts in public relations are emphasized. Students would complete case studies and perform critical analysis to demonstrate unique knowledge relating to ethical practicum in mass media contexts.
COMM 3533
Advertising, Brand Management, and Audio Production
Students would study the history of advertising across mass mediums of print and digital publication. Students will then apply knowledge gained in the form of producing original adverts. The production process would include concept formulation, scripting, revision, and culminate in audio production practices.
COMM 4123
Media Production Techniques
Media Production Techniques provides a dynamic atmosphere where students gain exposure to a designated focus area in media. Enrollees then develop a multimedia project that demonstrates knowledge about the topic and familiarity with why this media sustains market interest with creators, producers, investors, and stakeholders. Students would have the opportunity to work individually or in groups to develop one or more projects that immerse enrollees in problem-solving situations that require diverse media production techniques.
COMM 4413
Media and Television History
This course provides a study of the evolutionary role of communication technologies throughout media history in the twentieth and twenty-first century. Students would examine how mass mediums like television facilitate social, economic and political change in society. Students would apply historical lessons learned through scene analysis, sequential storyboarding, and the development of original content in the form of a program pitch-and-proposal.
COMM 4513
Rhetoric, Persuasion, and Argumentation
This course examines the theories and practices of communication that affect change in society and how people think, feel, and act toward another entity (person, organization, idea, group, or product, etc.). Students would examine persuasion campaigns and strategies while putting together an original persuasive project, argument, or proposal.
COMM 4603
Creating Social Media Presence and Strategic Interviewing
This course reviews one of the most significant shifts in consumer media behavior in history, social media. Students would develop the practical knowledge required to create and manage a successful social media presence, learn new definitions of "community" in a digital culture, and apply these principles through active interviews and networking opportunities.
COMM 4803
Media Production and Communication Capstone
This course is designed to provide a culminating space for the organization and presentation of the digital media portfolio. Students would also prepare baseline materials necessary to enter the professional workforce. Students would reflect on their journey through the major and showcase select achievements.
Electives
COMM 2123
Introduction to Computer Mediated Communication
Introduction to Computer-Mediated Communication (or CMC) would immerse students in a deeper understanding of the practical, professional, and scholarly uses and approaches to understanding how communication functions and continually evolves in an increasingly digitized world. Courses would explore theoretical foundations in CMC, with discussions and assignments bent toward applying knowledge of CMC to corporate and social situations.
COMM 2243
Introduction to Virtual Reality
This course is designed to introduce students to the communication technologies field of virtual reality (VR) and the adjacent field of augmented reality (AR)). Students will gain exposure to the history of VR as it evolved from a speculative fiction concept to an applied communication technology. Introduction to VR provides a foundational course for students of any major that seek to understand the values this technology represents. The course should promote tutorial knowledge and a virtual learning space where students gain firsthand experience with this multimedia technology and understand it as an evolving tool for academic learning, professional development, and digital communication.
COMM 3143
Internship**
Internship hours provide a crucial link between core tenets of higher education, professional development, and the unique advantages that real-world experience provides students in an operational environment. The goal of any internship is to expand a student's conceptualization of and familiarity with onsite labor demands in an area compatible with a student's degree program. Enrolling in internship hours, students would work with their advisor-instructor on a plan for a pre-approved short-term partnership with a business organization, including mapping clear expectations, methods for accountability, and direct reporting of observational and/or direct labor experiences.
COMM 3153
Internship II
Internship hours provide a crucial link between core tenets of higher education, professional development, and the unique advantages that real-world experience provides students in an operational environment. The goal of any internship is to expand a student's conceptualization of and familiarity with onsite labor demands in an area compatible with a student's degree program. Enrolling in internship hours, students would work with their advisor-instructor on a plan for a pre-approved short-term partnership with a business organization, including mapping clear expectations, methods for accountability, and direct reporting of observational and/or direct labor experiences. Students cannot use the same organizational participant for COMM Internship and COMM Internship II.
COMM 3213
Organizational and Professional Communication
Students examine the complex interaction of social and psychological forces operating in the workplace—as well as the broader context of human communication. Coursework would reveal how image and identity are fundamental to core practices of corporate communication, advertising, press releases, internal communication, and fundraising, among other types of communications. Students would learn to develop effective strategies for communicating effectively within organizations and between organizations and their constituencies.
COMM 3343
Directed Readings **
Directed Readings allow students to deepen their specialized knowledge in an area of interest that expands upon a previously introduced topic that is not the primary emphasis of another course or curriculum offered during a student's period of enrollment. The directed readings packet should be agreed upon in advance and arranged between the student, their advisor, the program director, or a combination of parties working to meet the individual's needs. Parties involved would prioritize academic rigor. Students are expected to produce one or more written projects to meet the successful completion of the directed readings course cycle.
COMM 3423
Veterans in Media
Veterans in Media will survey how public servants are depicted in various forms throughout mass media history and, conversely, how mass media shape public perception through narrative persuasion. Students will gain exposure to public perceptions of veterans produced primarily through th, th, and st Century media. Mediated depictions include books, journal essays, newspaper articles, posters, pictures, television, and film. Presentments range from ancient civilizations, international and historical representations to U.S. American Veterans, with an emphasis on highlighting how military identity constitutes a transnational phenomenon that is both mythological and unique to the human condition.;
COMM 3433
Research Design Methods
Students would develop strategies to perform qualitative research design. The research design would incorporate mass media but could be adapted to alternative uses. Students will develop a research project, pilot their survey, report on the results, and reflect on measures for improvement.
COMM 3443
Special Project**
The Special Project course affords students a unique opportunity to focus exclusively on larger written or multimedia projects intended to enhance the quality and quantity of their Digital Media Portfolio, a requisite component of the Communication, Media, and Ethics degree program. Students would identify a project of interest that meets the criteria for either scholarly interest or professional development. Students would substantially progress their original project over the duration of the course. Ultimately, enrollees must present their findings or final project in a live audience or pre-recorded format, in addition to the submission of the special project materials for course credit.
COMM 3603
Mass Communication Perspectives
This course examines the relationships between media, culture, and society and reveals how various media platforms are used to influence individuals, groups, and society at large. Students are exposed to the roles and responsibilities of media in relation to societal, political, and economic institutions. Close attention is given to the media's influence on human behavior, including voting behaviors and violent and antisocial behavior.
COMM 3613
Intercultural and Cybercultural Communication
The rise of digital communication has made it possible for companies and organizations to form partnerships worldwide. This course examines the theories and provides essential skills for effective communication between individuals and groups from different cultures. Students would learn to think and communicate in global contexts and learn to appreciate and respect cultural differences. Experts in the field would address how people and organizations from diverse communities can work together effectively. Special consideration is given to recognizing and evaluating behavioral, communicative, political, religious, and ethical issues.
COMM 3903
Integrated Marketing and Public Relations
This course goes deeper into the functions of public relations to expose students to the advanced functions of the PR professional, including strategic messaging; corporate communication; influencing and measuring public opinion; story and pitch presentations; campaign planning and management; risk and crisis management; and reputation and brand management, among others. Particular attention is given to the methods and processes of building support for a cause, movement, organization, or institution and moving constituents toward a desired goal.