Business Management Career Opportunities
Corporate Trainer
Chief Executive Officer
Administrative Supervisor
Human Resources Manager
Health Services Manager
School Principal
Sales Manager
Compensation and Benefits Manager
Management Analyst
Military Officer
Training and Development Manager
Operations Manager
Community Services Manager
Elevate People and Businesses with a Master's in Leadership
Are you drawn to lead and bring out the best in people? Managing a business–and its employees–isn't easy. Mid-America Christian University's (MACU) Master of Arts in Leadership with an emphasis in business management will put you on the path to advancing your career as a servant leader with the skills and knowledge to manage in a wide variety of industries.
Whether you have a business background or want to change careers, a leadership master's in business management will prepare you to manage both finances and people using leadership strategies rooted in ethics. Employment in management occupations is projected to grow 9 percent from 2020 to 2030 and will result in about 906, 800 new jobs.
MACU, a bible-based university, is accredited by the Higher Learning Commission (HLC) of the North Central Association of Colleges and Schools (NCA).
Specialized Master's in Leadership Integrates Business Management
As a student in our leadership and management degree program, you'll explore business topics through engaging course material and peer discussions. By integrating these disciplines, we shape professionals into business leaders who are effective in both creating healthy organizational cultures and in carrying out the day-to-day operations necessary for a company to succeed.
You'll gain a foundation in basic leadership principles through courses in project management, organizational culture, development and leading change. In addition, you'll study topics specific to business management such as economic theory, legal environment, and managerial accounting. Also, every course in the business leadership degree program includes an ethical component so you'll be equipped to address every area of business management as a servant leader with a Christian perspective.
Program Information
An Online Master's in Management and Leadership: Accelerated, Affordable and Flexible for Adult Learners
Since 2008, MACU has been an expert at providing affordable, accelerated and flexible online master's degree programs. Our six-week classes for an online master's degree in organizational leadership are designed to work around the schedule of a busy professional. Although this degree is offered completely online, select courses may be offered on campus depending on student interest and faculty availability.
You can be assured that you won't be a number in our program. With small classes, our professors–all with real-life leadership experience in business–are committed to offering you individual attention and support. They, along with our caring staff, will do everything they can to make you feel like a part of the MACU community. As an online master's degree student, here are some of the benefits you'll appreciate:
Just one class at a time in a consecutive order
Full support from our experienced student services team
Consistent career networking opportunities
Emphasis on soft-skills training
MACU is Committed to Developing Servant Leaders
We offer a supportive online environment that encourages the personal, professional and spiritual growth of our students. You'll learn to use your God-given talents to lead and manage–people and business finances–effectively and ethically, with a Christian worldview perspective.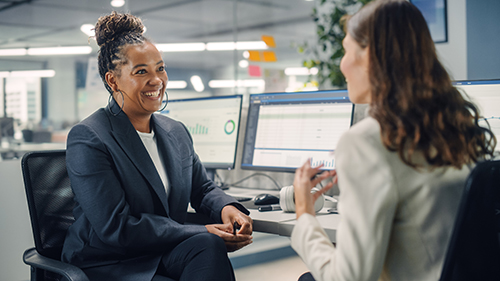 Courses
ECON5213

Economic Theory and Application

This course is a survey of economics. The course covers how modern economics evolved, supply and demand, national income accounting, money and banking, market structures and contemporary economic issues. Both macroeconomic and microeconomic principles are covered.

MGMT5113

Organizational Behavior

This course introduces the theories of behavior in human management. A critical analysis is performed on the contributions to the organizational behavior discipline and its research as applied to the business environment. The student will apply the theories of its research as applied to the business environment. The student will apply the theories of culture development, time management, job design, change, motivation, leadership development, communication, small group dynamics, and negotiation in the business setting.

MGMT5233

Marketing Analysis and Strategy

This course examines the marketing functions and strategies related to the product, place, price and promotion of goods or services provided by the organization. The student will become familiar with the elements of a marketing plan and will be capable of analyzing complex situations leading to feasible solutions.

MGMT5353

Communication in Professional Organizations

This course is designed to groom the aspiring business professional leader to deliver professional, concise, powerful, and audience appropriate communication by utilizing the most acceptable tools, modes and media available. This will also sensitize the professional to appropriate communication etiquette and protocols to help ensure the credibility and effectiveness of the intended message.

MGMT5413

Legal Environment

This course examines the impact of laws and the legal system on the business environment and managerial decision making. Major topics include: contracts, commercial transactions, agency relationships, organization choices, federal-state-local governance with special emphasis on EEOC and ADA issues, property law, and hiring practices. Special emphasis will be placed on recent court cases impacting the business arena.

ML5111

Program Orientation

This course serves as an orientation to the Master of Leadership and Master of Leadership Public Administration degree programs explaining the program elements of mentorship, research, scholarly writing, collaboration and the Christian worldview including social equity.

ML5123

Organizational Culture and Behavior

This course examines organizational culture in terms of its history, setting, characteristics, components, and different types of interventions. Students will consider the perspectives of sociology and other social sciences as they explore personal and organizational values, communication and social networks, community trends, and forecasting for the future. Every leader who has served more than one organization is well aware of the likelihood of differences, but is often inadequately trained to diagnose and create workable solutions to the problems facing the particular group they are leading.

ML5143

Leadership Theory and Practice

This course explores the history and development of leadership theory as well as the role of leadership in the students' current organizational settings. Although leadership and management are not the same, they are often confused. The unique features of each are studied along with practical application of case studies of current leaders as well as from history. Managers develop subordinates, leaders develop followers, and the most highly successful leaders develop leaders. Students will evaluate their own leadership style using the Leadership Practices Inventory developed by Kouzes and Posner. Students will gain hands-on experience by analyzing their performance in a current or new leadership role.

ML5163

Training and Development

This course addresses the core aspects of instructional systems design as applied to workforce learning and performance. Learners apply key principles involved in assessing, designing, developing, implementing, and evaluating employee development and performance improvement programs. Learners gain hands-on experience by creating an active training event.

ML5243

Leading Change

Leaders often attempt changes that they believe are critical to the survival of the organization only to find those changes are resisted by the very people the leader is attempting to help. People's response to change depends on the degreeto which they understand the need for change, are involved in teh change process, and understand the implications the change has for their roles. This class explores the processes necessary to identify the need for change using appropriate models, plan the process of change, obtain authorization for the change and motivate the appropriate stakeholders to ensure success.

ML5313

Project Management

This course presents the technical, managerial and organizational concepts and tactics associated with managing projects. Topics include the skills, tools, and techniques for projecting activities to achieve project requirements while using processes of initiating, planning, executing, monitoring and controlling, and closing. Studens will be required to evaluate a recent change process in which they participated, created a project managment structure for a needed change project, and to initiate the change process in their own setting using project management models.

ML5363

Communication for Leadership

This course focuses on the philosophy and behaviors associated with leadership communication in various contexts. Emphasis is placed on unique aspects of messages as individuals enact leadership roles. Includes an overview of emerging technologies, use of social media and multimedia, and an analysis of the social and behavioral effect of these technologies on human interaction in intra- and inter-agency contexts.

ML6112

Case Study Presentation

Students will present their case study. The written report of the case study will conform to APA standards. The project will include analysis of the data collected. Students will also present their findings orally from an outline.

PMIN5123

Business Management from a Christian Worldview

This course examines the influence that social, cultural, and religious environments exert on institutional behavior, particularly focused on the development of an appreciation for the Christian worldview. Included are the changing nature of the business system, the policy process, corporate power, and organizational and societal reaction to these environmental forces. The roots of ethical behavior and the societal benefits of proper ethical behavior will also be examined.