Public Administration Career Opportunities
City Manager
Public Administration Consultant
Local Government Administrator
Nonprofit Manager
Budget Analyst
Politician
International Aid/Development Worker
Fundraising Manager
Political Consultant/Campaign Manager
Community Developer
Lobbyist
Community Association Manager
Project Manager
Earn MA in Leadership Degree Online and Differentiate Yourself as a Leader
Elected officials aren't the only leaders involved in formulating and initiating policy objectives. When you earn an online Master of Arts in Leadership with a public administration emphasis degree at Mid-America Christian University (MACU) in Oklahoma City, you'll have the knowledge and skills to be a collaborative, ethical, and innovative leader, ready to serve the public good in government agencies and beyond. The versatile Master's of Leadership degree with an emphasis in Public Administration also prepares you to succeed in careers in healthcare, academia, nonprofits, and private enterprise. The U.S. Bureau of Labor Statistics reports that employment for administrative services managers is projected to increase by 9 percent between 2020 and 2030.
The MA online degree program focuses on developing leadership skills such as collaboration, diplomacy, diversity, writing and strategic communication and public speaking. When you complete the master's in public administration online degree, you'll be prepared to lead ethically through exercising fiscal responsibility and social equity. You'll be able to diagnose organizational problems and formulate plans of action to positively impact your workplace and community.
MACU's MA in Leadership Online: Focused on Applicable Knowledge, Processes
In this program, you'll have a foundation based on organizational leadership courses such as Leading Change, Legislative Process and Behavior and Public Policy Implementation. The public administration emphasis courses will explore subjects that include public policy implementation and legislative process and behavior. Each of your courses will be supported by a biblical worldview–preparing you for a successful career and a Christ-centered life. Prior to completing your leadership public administration degree online, you'll finish a capstone integrative leadership project and present a case study.
The program focuses on applicable knowledge and real processes so you'll graduate with work-ready skills, ready to effectively serve the public through a career in government or other sectors.
Program Information
Fast-track Your Career With a Master's in Public Administration Online
As a provider of online education since 2008, we understand what's important to busy adults who want to boost their careers with an advanced degree. You don't want to choose between working or studying, so we've designed an accredited, accelerated degree program where you can do both. Our six-week classes work around your schedule, and our professors, all with real-life experience in leadership roles, are committed to providing you with individual attention to help you succeed. You won't feel like a number in our online program because every effort is made to make you feel like a member of the MACU community. Although this degree is offered completely online, select courses may be offered on campus depending on student interest and faculty availability.
Here are some benefits for our online adult learners:
Just one class at a time in a consecutive order
Full support–including tutoring and student services
Small teacher-to-student ratio
Career networking
Emphasis on soft skills training
As you prepare to begin your degree at MACU, our enrollment counselors are ready to assist you. Please take a look at this downloadable degree sheet, featuring an overview of MACU's Leadership degree program. Don't hesitate to reach out by emailing [email protected] or calling 888-888-2341 if you have any questions.
MACU's Christ-centered Education Shapes Leaders
We're passionate about transforming ordinary people into extraordinary Christian leaders. As an online student, you'll have opportunities to grow personally, professionally, and spiritually. We're here to help you discover ways to connect your career goals with God's bigger purpose for you life.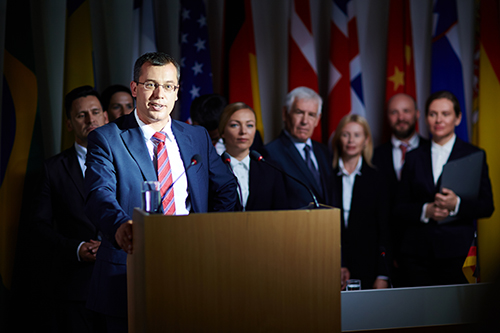 Courses
MGMT 5113
Organizational Behavior
This course introduces the theories of behavior in human management. A critical analysis is performed on the contributions to the organizational behavior discipline and its research as applied to the business environment. The student will apply the theories of its research as applied to the business environment. The student will apply the theories of culture development, time management, job design, change, motivation, leadership development, communication, small group dynamics, and negotiation in the business setting.
COMM 5103
Advanced Professional Communication and Leadership Practicum
Advanced Professional Communication Leadership will provide a dynamic range of oral, written, and digital communication opportunities that will enhance student experience through diverse presentation methods. The course will posit opportunities for students to employ concepts, strategies, and content selected from individual areas of interest and adapt these labors into public and/or digital performances that demonstrate applied skills across multiple modalities.
ML 5143
Leadership Theory and Practice
This course explores the history and development of leadership theory as in the students' current organizational settings. Although leadership and management are not the same, they are often confused. The unique features of each are studied along with practical application of case studies of current leaders as well as from history. Managers develop subordinates, leaders develop followers, and the most highly successful leaders develop leaders. Students will evaluate their own leadership style using the Leadership Practices Inventory developed by Kouzes and Posner. Students will gain hands-on experience by analyzing their performance in a current or new leadership role.
ML 5163
Training and Development
This course addresses the core aspects of instructional systems design as applied to workforce learning and performance. Learners apply key principles involved in assessing, designing, developing, implementing, and evaluating employee development and performance improvement programs. Learners gain hands-on experience by creating an active training event.
ML 5243
Leading Change
Leaders often attempt changes that they believe are critical to the survival of the organization only to find those changes are resisted by the very people the leader is attempting to help. People's response to change depends on the degree to which they understand the need for change, are involved in the change process, and understand the implications the change has for their roles. This class explores the processes necessary to identify the need for change using appropriate models, plan the process of change, obtain authorization for the change and motivate the appropriate stakeholders to ensure success.
ML 6023
Integrative Leadership Project
This course serves as a capstone for the MA Leadership program. Students will complete an application project related to their emphasis and field of interest.
ML 5263
The Adult Learner
Learners explore the basic theories and current research in adult education. This class draws from both adult development and adult education to explore the stages of human development, issues concerning adult learning ability, how and why adults learn, and how to make sure that learning has taken place.
ML 5273
Nonprofit Leadership
This course examines the unique leadership challenges and opportunities presented in nonprofit organizations. Students will learn about the nature of the nonprofit sector and gain perspectives on management, financial, leadership, and governance issues facing nonprofits.
ML 5343
Financial Development and Resource Management
Leaders must be able to find the money to fund the budget for the planned programs to accomplish the mission of the group they are leading. Funding, budgeting, and financial accountability are prerequisites to success in any organization. This class explores the skills necessary for budgeting, stewardship, donor development, funding, accountability and ethical use of resources. While not an accounting course, the differences between for-profit, not-for-profit, and cash flow accounting requirements are explored.
ML 5353
Decision Making
Leadership decisions must often be made with incomplete evidence. This course provides an understanding of various forces which influence the process of making and implementing decisions. Students will learn leadership decision making from individual, small group, and social environment contexts, as well as values of good decisions and the unintended consequences of poor decisions.
ML 5153
Public Budgeting and Finance
Examines how to develop successful fiscal policy initiatives. A sufficient understanding of the technical material and the political processes involved in making tax and spending policy. Economic policy and the impact on a state or municipality will be studied.
ML 5233
Public Policy Implementation
Examines the ethical implementations of public law. Develops an understanding of different analytic strategies for assessing if a program is being instituted as designed and is reasonably connected to its articulated goals.
ML 5253
Legislative Process and Behavior
Facilitates a better understanding of the: workings of the federal and state government; legislative process; relationship between bicameralism, federalism and the republican form of government; and the roles of elected representatives and the legislative staff.
ML 5273
Nonprofit Leadership
This course examines the unique leadership challenges and opportunities presented in nonprofit organizations. Students will learn about the nature of the nonprofit sector and gain perspectives on management, financial, leadership, and governance issues facing nonprofits.