Professor/Chair: School of Arts and Sciences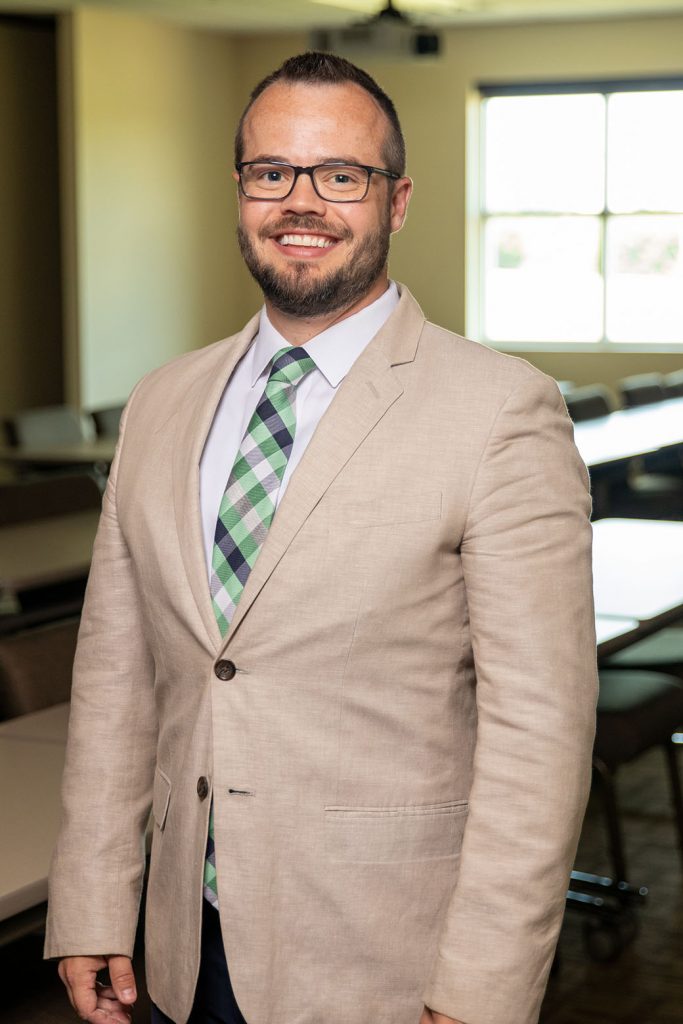 Garret L. Castleberry, Ph.D. is an Associate Professor and serves as Program Director of Communication, Media, and Ethics at MACU. He is also Chair of the Adult School of Arts and Sciences. Dr. Castleberry helps facilitate MACU's initiatives to cultivate diversified curriculum and learning environments to meet widening student demographics. Under his advisement, MACU expanded its communication program to include on-ground and online curriculum, traditional full-semester courses, and accelerated 5-week, 6-week, and 8-week enrollment options. These classes range from in-person to online, mornings and afternoons, and special emphasis on evening classes that invite traditional, non-traditional, and regionally dispersed student bodies to congregate together in synchronized spaces. As program director, Garret placed emphasis on expanding Communication electives by 15 hours in 2021 to foster individual learning tracks that emphasize internships, specialized labor projects, and unique learning opportunities that benefit students that wrestle with diverse non-academic challenges.
Undergraduate classes align with one of three tiers of emphasis in the COMM program: Media Studies, Public Relations, and Social Media Studies. Each area incorporates traditional Communication theories, methods, readings, and discipline-friendly learning objectives, while emphasizing how these skill sets interact with other degree areas and professional arenas. "Our primary purpose is to increase equity for students as they progress in a plurality of professional and academic directions. A Communication degree should be dynamic in how it strikes balance between academic rigor alongside professional development." The balanced approach pushes students to develop a digital media portfolio while striving to create a positive digital footprint. Dr. Castleberry's emphasis on balance and strategic partnerships provided organic enrollment growth enough that the COMM program now offers a Graduate Emphasis in Communication (12 hours) available to students in the Masters of Business Administration (MBA) and Leadership (ML) starting in 2022.
Dr. Castleberry also remains active in his own discipline, reviewing for numerous journals and conferences while also serving on the Board of Directors for the Oklahoma Speech, Theatre, and Communication Association. His scholarly training intersects areas of media studies, semiotics, and genre theory. Garret's writings combine genre studies, autoethnography, and ideological criticism to explore the rhetorical work performed by mass-mediated artifacts and popular culture. His work has appeared in Cultural Studies⬄Critical Methodologies, the International Journal of Qualitative Research, the Popular Culture Studies Journal, Memory Studies, the Journal of American Culture, Ink & Letters, Flow, Unbound, In Media Res, the Professional Wrestling Studies Association, and PopMatters. Garret's scholarly contributions also span numerous books and collected anthologies including Television, Social Media, and Fan Culture, The ESPN Effect, Communication Theory and Millennial Popular Culture, Convergent Wrestling: Participatory Culture, Transmedia Storytelling, and Intertextuality in the Squared Circle, The Political Mel Brooks, and The Twenty-First Century Western. Dr. Castleberry is the co-editor of the book Competition, Community, and Educational Growth: Contemporary Perspectives on Competitive Speech and Debate. He is currently working on several books with topics concerning future shock science fiction cinema, global pandemic media practices, and post-pandemic teaching practices.