Nursing Career Opportunities
Case Manager
Critical Care Nurse
Home Health Care
Medical Assistant
Medical Billing
Medical and Health Services Manager
Medical Lab Technician
Medical Writer
Nurse Manager
Pediatric Nurse
Pharmaceutical Sales Rep
Public Health Nurse
Registered Nurse
Online or On Campus, This Program Is Your Gateway to Earning a BSN
There's never been a better time to start or advance a career in healthcare. Together with Oklahoma City University (OKCU) Kramer School of Nursing, Mid-America Christian University's (MACU) faith-based pre-nursing program will help you earn an associate of arts (AA) in general studies, putting you on track for a Bachelor of Science in Nursing (BSN) and opening up a world of opportunities in medicine, public health, and more. If you're already an RN, MACU's pre-nursing classes—offered online and on-campus—can help you take your career to a new level.
For more than a decade, a nursing shortage has existed due to reasons such as retirement, a growing geriatric population with age-related conditions, and healthcare reform. The COVID-19 pandemic has only exacerbated the situation–and shown the world the important role nurses have in healthcare. With an anticipated job growth of 9 percent between 2020 and 2030, the need for nurses shows no signs of slowing. Pre-nursing can be used as a stepping stone to a variety of careers for nurses that offer reliable and gratifying employment, as well as high-earning potential.
In a unique partnership with OKCU, MACU's pre-nursing students complete core classes–such as biology, anatomy and physiology–then transfer to OKCU's acclaimed Kramer School of Nursing to be eligible for registered nursing (RN) licensure. MACU is accredited through the Higher Learning Commission (HLC) of the North Central Association of Colleges and Schools (NCA).
OKCU Entrance Requirements
A 3.00 cumulative GPA or higher.
Completion of MACU Pre-Nursing courses.
A cumulative GPA of 2.50 or higher in MACU science courses.
English proficiency as outlined in the English Proficiency Policy for Admission to NURS Courses.
HESI A2 minimum exam score of 75 or TEAS minimum exam score of 78, maximum of two attempts on entrance exams.
Program Information
AA in Pre-nursing Online: Accelerated, Affordable BSN Preparation
For more than 20 years, MACU has offered fully accredited online learning that caters to students who want to work toward a degree but need a convenient, affordable, and flexible program that fits their lifestyle. Here are some of the ways our online pre-nursing classes can help you save money and finish faster:
Just one class at a time in a consecutive order
Up to 30 credits (per year) for life experience (volunteering, community service, etc.)
Eligible military service training can be applied as course credits
Minimal upfront costs, including no initial book fees
Free placement testing
Full support–including tutoring and student services
We offer a small teacher-to-student ratio, and our professors, who all have real-world experience, do everything they can to make every student feel like they're part of the MACU community.
AA in Pre-nursing On Campus: Connect, Belong, Explore & Grow
At MACU, you'll always be seen for who you are–never as just a number. As a faith-based university with an on-campus population of less than 1,500, MACU faculty and staff are actively involved in helping students build and maintain a respectful, engaged, and vibrant community where everyone belongs.
You can also explore and grow at MACU. No matter what your interests are, MACU offers you the chance to do what you love. If you're looking for more, you're sure to discover it in Oklahoma City. With a growing population of more than 640,000, the city boasts exceptional career-boosting experiences, as well as countless restaurants, shopping centers, and entertainment venues.
MACU benefits for on-campus students include:
Affordable, streamlined degree completion
Low faculty-to-student ratio
Small, intimate campus where community is encouraged and safety is a priority
Immediate proximity to a growing, diverse city with a thriving job market
Support services that help students thrive and succeed
Recreational, academic, and faith-based activities and groups
Competitive sports and esports teams
MACU Offers Christ-centered Foundation for Nurses
Nursing is a career that presents abundant opportunities to demonstrate God's love.
MACU's pre-nursing program is bible-based and built on the foundation of Jesus Christ's love and service to others. Students are provided with opportunities to grow in their spiritual life by taking part in weekly chapel services, student-led devotions and many faith-based campus clubs and activities.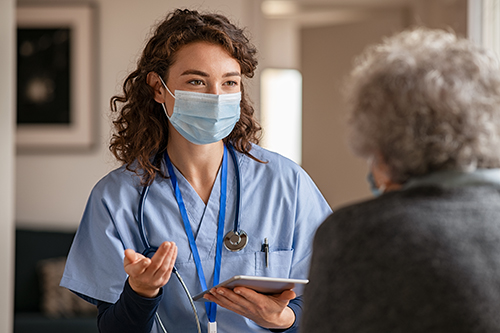 Courses
BIOL 1133
General Nutrition
General Nutrition is required for certain pre-health professions. The course covers topics related to nutritional requirements to maintain homeostasis within the human body. Topics include chemical composition of macro and micronutrients, essential and nonessential nutrients, digestion, cell metabolism, energetics, and diseases related to diet.
BIOL 1214
Biology I
Biology I is a course for biology majors. It is a systematic study of biological principles beginning at the
molecular level and advancing to the cellular level. The concepts covered include prokaryote and eukaryote cell form and function, cell membrane transport, cell metabolism, cell energetics, protein synthesis, and genetics. Laboratory is a required and integral component introducing students to the scientific method, experimentation, and analytical evaluation.
BIOL 2314
Anatomy and Physiology I
Human API is for students planning to major in nursing or other health professions. It is a comprehensive study of the structures and functions of cells, tissues, organs, organ systems, and the human body. The systems covered include, integumentary, skeletal, muscular and nervous. Laboratory is a required and integral component introducing students to dissection, and analytical evaluation.
BIOL 3305
Microbiology
Microbiology is a course for biology majors. It is a comprehensive study of microorganism form, physiology,
reproduction, genetics and diversity. Laboratory is a required and integral component introducing students to microbiology laboratory techniques and analytical evaluation.
CHEM 1105
General Chemistry I
General Chemistry I is a required course for biology and chemistry majors. It is a systematic study of atomic and molecular structure, chemical bonding properties, chemical reactions, stoichiometry and conservation of mass. Laboratory is a required and integral component to learning scientific experimentation safety protocol, and proper reporting of results.
MATH 1513
College Algebra
This course is a study of the processes of algebra, polynomials, algebraic fractions, graphing linear systems. It is designed for students planning to major in business and natural science programs.
PSYC 1103
Introduction to Psychology
An introductory course designed to acquaint the student with a broad view of the field of psychology. It should introduce the student to the major concepts of the field including its history and development. Attention will be given to concepts such as learning, motivation, personality, stress, consciousness, intelligence and reasoning, as well as cognitive, social, moral and psychological development.