MBA in Accounting Opportunities
Accounting Manager
Cost Accounting Manager
Chief Financial Officer
Business Consultant
Chief Operating Officer
Revenue Manager
Financial Manager
Management Analyst
Technical Account Manager
Personal Finance Advisor
Business Development Manager
Forensic Accountant
Advance Your Career with an Online MBA in Accounting Degree
If you want to open doors to a new career or move up the corporate ladder into management and senior-level accounting positions, you can't go wrong by earning a Master of Business Administration (MBA). In a recent survey, 90 percent of employers said they plan to hire MBA graduates. When you earn an online MBA accounting degree at Mid-America Christian University (MACU), located in Oklahoma City, you'll have the knowledge and credentials needed to earn a higher salary, advance in management positions, and even oversee your own business. With a Christ-centered education, our online MBA accounting graduates stand out in the field of job applicants. Employment of accountants and auditors is projected to grow 7 percent in that same time period.
You'll learn from instructors who have worked in the field or are currently practicing accountants. They have a wealth of information to share–and use real-life situations they've encountered to illustrate points. You'll gain essential knowledge about accounting information systems, taxation and auditing, and more. You will also have the opportunity to further cultivate "soft skills" and your leadership abilities through additional in-depth courses on management, communication, and marketing analysis.
What's the Difference Between an MBA in Accounting and a Master's in Accounting?
An MBA with an accounting concentration focuses on a breadth of skills and offers the choice of adding an emphasis–such as management accounting and CPA preparation–that allows students to pursue specific business professional goals. In contrast, a master's in accounting is a more specific degree that offers a depth of knowledge with a primary focus on the field of accounting and preparing students for the Certified Public Accountant (CPA) exam.
Both degrees provide excellent opportunities and will help you gain a competitive edge. When deciding which of these two programs is best for you, it ultimately comes down to your career goals.
Go from a Generalist to an Expert
When you earn an MBA in accounting with a specialization, you'll be equipped with in-demand skills that can lead to higher salaries and expanded career opportunities.
Management accounting
A management accounting emphasis will put you in position to be involved in cost analysis and cost reduction projects, competitor analysis, variance analysis, tender preparation and review, strategic planning, and investor appraisal. You'll have the knowledge and skills to offer your opinion on analysis and assist in business decision-making and control. Employment in management occupations is projected to grow 9 percent from 2020 to 2030.
If you have a bachelor's degree in accounting or have taken the necessary prerequisites, MACU's MBA with Management Accounting emphasis equips you with the necessary qualifications to take the CPA exam.
CPA Online Course for college credit
According to an American Institute of Certified Public Accountants (AICPA) report, adding a CPA license increases your salary up to 15 percent annually. With a Certified Public Accountant (CPA) emphasis, you don't have to choose between earning a Master of Business Administration (MBA) and taking CPA classes online to prepare for the exam. Coursework in our CPA track program focuses on topics such as taxation and auditing and accounting information systems. In addition, there are two classes specifically tailored to CPA certification exam prep. Our experienced instructors emphasize the importance of truly digesting the material and not just memorizing to pass a test.
You don't need a bachelor's degree in accounting to enroll in our MBA CPA program, but you do need the following prerequisites:
ACCN 3913 Intermediate Accounting II
ACCN 3933 Income Tax Accounting I
ACCN 4443 Advanced Financial Accounting OR Equivalent ACCN 4633 Auditing
Program Information
Affordable, Accelerated Online MBA Degree Designed for Busy Adults
We understand the concerns–financial, time commitment, logistics, and more–about taking the traditional on-campus route to earning an MBA. Since 2008, MACU has offered affordable online learning to people in all stages of their personal and professional life, helping them achieve their goal of higher education.
You'll appreciate our small classes where you won't feel like a number. Our professors are excited about teaching online classes and do their best to help you network, develop relationships with your classmates, and make you feel like a part of the MACU community. Although the MBA Management Accounting program is offered completely online, select courses may be offered on campus depending on student interest and faculty availability.
Here are just some of our benefits for our online graduate students:
Just one class at a time in consecutive order
Six-week classes are taught using a similar template so students know what to expect
No GMAT required for entrance
Full support–including tutoring and student services
Consistent career networking opportunities
Emphasis on soft skills training
Christ-centered education
MACU Develops Christian Leaders
Whether you earn your graduate degree online or on-campus, you'll have opportunities to grow professionally, personally and spiritually. By instilling biblical principles and Christian ethics into every program of study, we shape servant leaders who are prepared to use their God-given talents in ways that honor Christ, their profession and others.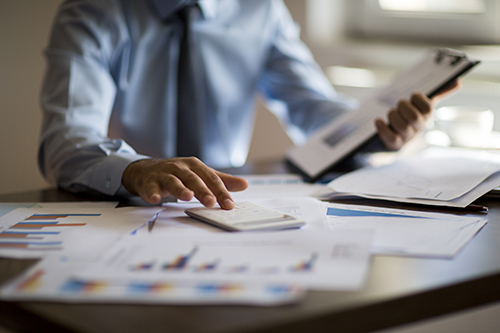 Courses
ACCN5143

Advanced Cost Accounting

This course will study the development of cost accumulation and reporting systems that complement a firm's strategy and structure; how activity-based cost management systems increase competitiveness by helping a firm manage its costs, processes, and people. Prerequisite: ACCN 3913.

ACCN5153

Advanced Accounting Information Systems

This course studies the framework of accounting information systems by combining knowledge about the accounting transaction cycles, information technology, and business process design.

ACCN5163

Business Taxation

This course reviews organizational tax strategies for capital structures, business operations, new business, business domestic expansion, international growth.

ACCN5173

Advanced Auditing

This course examines auditing principles, concepts, and standards including a review organizational decision financial reporting and resolution of ethical issues.

ECON5223

Managerial Economics in the Globalized Environment

This course applies the principles of economics to rational business operations. The course will focus on managerial economics: demand theory, pricing and elasticity, forecasting and production levels, costs, capital allocation, distribution, and consumption. Students will explore such economic concepts as opportunity costs, the concepts of supply versus demand, profit maximization, and monetary systems. Economic geopolitical events with cause and effect relationships will be highlighted throughout the course.

FINC5333

Modern Corporate Finance

This course examines corporate utilization and allocation of monetary resources, capital, budgeting, the time value of money, security valuation, debt-equity structure, international finance, weighted average cost of capital, and other financial issues are examined with a view toward providing the student with decision-making tools for risk and investment analysis.

MGMT5113

Organizational Behavior

This course introduces the theories of behavior in human management. A critical analysis is performed on the contributions to the organizational behavior discipline and its research as applied to the business environment. The student will apply the theories of its research as applied to the business environment. The student will apply the theories of culture development, time management, job design, change, motivation, leadership development, communication, small group dynamics, and negotiation in the business setting.

MGMT5233

Marketing Analysis and Strategy

This course examines the marketing functions and strategies related to the product, place, price and promotion of goods or services provided by the organization. The student will become familiar with the elements of a marketing plan and will be capable of analyzing complex situations leading to feasible solutions.

MGMT5323

Human Resource Management

This course focuses on the human resource management functions in profit and nonprofit organizations. Major topics include: human resource planning, legal requirements, job analysis and design, recruitment, selection, placement, training and development, performance appraisals, career development, compensation and benefits, and reward systems. It will examine how diverse human resource management functions contribute to corporate profitability and why they are critical to an organization's long-term survival. Students will explore the interdependencies between human resource and organizational strategies.

MGMT5353

Communication in Professional Organizations

This course is designed to groom the aspiring business professional leader to deliver professional, concise, powerful, and audience appropriate communication by utilizing the most acceptable tools, modes and media available. This will also sensitize the professional to appropriate communication etiquette and protocols to help ensure the credibility and effectiveness of the intended message.

MGMT5413

Legal Environment

This course examines the impact of laws and the legal system on the business environment and managerial decision making. Major topics include: contracts, commercial transactions, agency relationships, organization choices, federal-state-local governance with special emphasis on EEOC and ADA issues, property law, and hiring practices. Special emphasis will be placed on recent court cases impacting the business arena.

MGMT6313

Management Science

This course is an in-depth study of the application of the scientific approach to managerial decision making. Students will become familiar with the quantitative methods used in solving business problems. Using mathematical modeling, the student will formulate computer-based solutions to problems related to operations, marketing, finance, and other functions encountered in organizations.

MGMT6423

Strategic Business Management

This course demonstrates the strategic linkage between the functional disciplines (marketing, accounting, finance, legal, information systems, human resource behavior and management, and management science) within the strategic management process. This course focuses on how managers originate, implement, and assess strategies and serves as a capstone for the MBA program.