Earn a Professionally Focused MBA Online at MACU
MBA Job Opportunities
Accounting Manager
Chief Financial Officer (CFO)
Chief Technology Officer (CTO)
Data Analyst
Financial Analyst
Financial Controller
Business Owner
Upper-Level Manager
Business Operations Manager
Nonprofit Director
Investment Banker
Marketing Manager
Management Consultant
A Master of Business Administration (MBA) degree consists of in-depth graduate studies designed to prepare students for a leadership role within the business community. It provides both theoretical and hands-on practical training with an in-depth look at the financial, human resources, and legal aspects of business management. Topics like marketing and organizational behavior are covered, as are global industry.
At Mid-America Christian University (MACU), our outstanding degree program has been consistently ranked as one of the state's best. As you learn from proven business professionals who have seen great success in their own careers, you will gain the knowledge and skill sets you need to increase your business opportunities and take your career to the next level.
Is an MBA Degree Worth It?
Benefits of an MBA degree include advancing your career opportunities, building leadership skills, and developing a fund of knowledge in business and management science. On average, professionals with an MBA earn $20,000 more than an undergraduate degree according to the National Association of Colleges and Employers (2020). MBA graduates often move up from mid-management positions to executive-level positions, and the pay differential can be as high as 90% between those with bachelor's degrees in management and those with MBA degrees.
Program Information
General or Concentrated Online MBA Degrees Available at MACU
Our challenging curriculum combines leadership development, organizational growth, and operations management to sculpt our students into the executives and business leaders of tomorrow. Students complete a core of 18 credit hours by taking one six-week course at a time. Once the core is completed, students add between 18 and 27 hours of either in-depth general business studies or choose from among six optional concentrations.
Concentrations include:
An Online MBA Degree Program You Can Incorporate Into Your Busy Life
Online learning has been offered at MACU since 2008, so we've got the experience you need to help you complete your degree hassle-free — one six-week course at a time. It's a step-by-step program designed to fit into any busy schedule, and you'll quickly be on your way to all the advancement opportunities an MBA degree can provide. Although this degree is offered completely online, select courses may be offered on campus depending on student interest and faculty availability.
Courses in MACU's Master of Business Administration program cost $618 per credit hour.
There's no Graduate Management Admissions Test (GMAT) required to apply.
MACU's program is accredited through the Higher Learning Commission (HLC) of the North Central Association of Colleges and Schools (NCA).
An MBA Degree With Christian Principles and Integrity at Its Core
MBAs are among the most popular graduate degrees in the country. It is one of the few degrees with international recognizability. But development of the business intellect without development of leadership integrity leaves a void in the business world. A Christ-centered education from MACU builds that missing integrity into the curriculum, strengthening the ethical foundation of our MBA graduates.
The MBA degree program at MACU teaches students the value of ethical business leadership practices as they grow their Christian faith, incorporating the strong morals and principles required to lead in today's complicated business climate.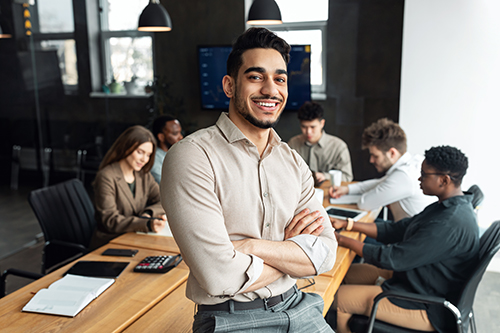 Courses
ACCN 5133
Managerial Accounting
This course introduces the financial statement, their sources and functions, and managerial control systems involved with the accounting process, including variance analysis and budgeting. It serves as an overview of the accounting function and its use in the management of the functional units within the organization.
ECON 5223
Managerial Economics in the Globalized Environment
This course applies the principles of economics to rational business operations. The course will focus on managerial economics: demand theory, pricing and elasticity, forecasting and production levels, costs, capital allocation, distribution, and consumption. Students will explore such economic concepts as opportunity costs, the concepts of supply versus demand, profit maximization, and monetary systems. Economic geopolitical events with cause and effect relationships will be highlighted throughout the course.
FINC 5333
Modern Corporate Finance
This course examines corporate utilization and allocation of monetary resources. Capital budgeting, the time value of money, security valuation, debt-equity structure, international finance weighted average cost of capital, and other financial issues are examined with a view toward providing
MGMT 5113
Organizational Behavior
This course introduces the theories of behavior in human management. A critical analysis is performed on the contributions to the organizational behavior discipline and its research as applied to the business environment. The student will apply the theories of its research as applied to the business environment. The student will apply the theories of culture development, time management, job design, change, motivation, leadership development, communication, small group dynamics, and negotiation in the business setting.
MGMT 5323
Human Resource Management
This course focuses on the human resource management functions in profit and nonprofit organizations. Major topics include: human resource planning, legal requirements, job analysis and design, recruitment, selection, placement, training and development, performance appraisals, career development, compensation and benefits, and reward systems. It will examine how diverse human resource management functions contribute to corporate profitability and why they are critical to an organization's long-term survival. Students will explore the interdependencies between human resource and organizational strategies.
MGMT 5413
Legal Environment and Ethics
This course examines the impact of laws and the legal system on the business environment and managerial decision making. Major topics include: contracts, commercial transactions, agency relationships, organization choices, federal-state-local governance with special emphasis on EEOC and ADA issues, property law, and hiring practices. Special emphasis will be placed on recent court cases impacting the business arena.
MGMT 5233
Marketing Analysis and Strategy, Sales and Consumer Behavior
This course examines the marketing functions and strategies related to the product, place, price and promotion of goods or services provided by the organization. The student will become familiar with the elements of a marketing plan and will be capable of analyzing complex situations leading to feasible solutions.
COMM 5103
Advanced Professional Communication and Leadership Practicum
Advanced Professional Communication Leadership will provide a dynamic range of oral, written, and digital communication opportunities that will enhance student experience through diverse presentation methods. The course will posit opportunities for students to employ concepts, strategies, and content selected from individual areas of interest and adapt these labors into public and/or digital performances that demonstrate applied skills across multiple modalities.
MGMT 6313
Management Science/Operations Management
This course is an in-depth study of the application of the scientific approach to managerial decision making. Students will become familiar with the quantitative methods used in solving business problems. Using mathematical modeling, the student will formulate computer-based solutions to problems related to operations, marketing, finance, and other functions encountered in organizations.
MGMT 6423
Strategic Business Management
This course demonstrates the strategic linkage between the functional disciplines (marketing, accounting, finance, legal, information systems, human resource behavior and management, and management science) within the strategic management process. This course focuses on how managers originate, implement, and assess strategies and serves as a capstone for the MBA program.