M.Ed. Job Opportunities
Instructional Coordinator
Teacher
Curriculum Specialist
School Librarian
Public Librarian
Corporate Educator
School Administrator
Move Forward as an Educator With an Online M.Ed. Degree From MACU
Employees at Oklahoma schools receive a 10-percent tuition discount on their degree program.
Hone the skills you already have. Develop new and exciting instructional techniques that inspire students to learn. A master's of education in curriculum and instruction online from Mid-America Christian University (MACU) in Oklahoma City will help you build a strong portfolio of resources, artifacts, and other teaching tools you can use for the rest of your career as an educator. Whether you use these skills in your own classroom or become an instructional coordinator for others, your work will change lives.
The median wage improvement for teachers with master's degrees is more than 40%, and instructional coordinators have an exceptional job outlook with an expected growth of 10% over the next twenty years. MACU's M.Ed., curriculum and instruction (C&I), is an ideal pathway for new teachers who need additional credits for state certification or for experienced teachers ready to take their work to the next level. Coursework is taught from a Christian perspective and includes instructional strategies, curriculum design, and plenty of peer-to-peer interaction and feedback. Graduates will be prepared to work more effectively in a classroom or to pursue administrative or even corporate training positions.
Program Information
MACU's Online M.Ed. Curriculum and Instruction: Designed for Busy Teaching Professionals
MACU has been a leader in adult online education since 2008. Our graduate degree in curriculum and instruction, offered completely online, will help you balance school with other responsibilities. Our professors are highly experienced in the field of education, allowing you to grow and thrive under their direction and encouragement.
Other benefits of MACU's M.Ed. C&I:
Christ-centered curriculum, helping program participants build their faith and incorporate it into their work.
Take just one course at a time every six weeks in consecutive order.
Small classes and a low faculty-to-student ratio.
Finish with a practical portfolio of teaching tools.
Courses cost $618 per credit hour, and employees of Oklahoma school districts receive a 10% tuition discount.
No GMAT required for entrance.
Although this degree is offered completely online, select courses may be offered on campus depending on student interest and faculty availability. MACU's program is accredited through the Higher Learning Commission (HLC) of the North Central Association of Colleges and Schools (NCA).
C&I Certificate Available
MACU also offers a certificate in curriculum and instruction, providing students with graduate-level coursework in P-12 classroom leadership. Graduates will be equipped to work effectively with students, parents, and other educators in a classroom environment. The certificate does not provide teacher certification, but it can equip you with the necessary coursework to meet requirements needed for alternative teaching credentials in Oklahoma, as well as help you prepare for teacher certification exams.
As you prepare to begin your degree at MACU, our enrollment counselors are ready to assist you. Please take a look at this downloadable degree sheet, featuring an overview of MACU's Curriculum and Instruction degree program. Don't hesitate to reach out by emailing [email protected] or calling 888-888-2341 if you have any questions.
Christian Teachers Change the World One Student at Time
Children and adolescents need not only safe, organized, and inspiring academic environments, but also teachers who are patient, understanding, supportive, and model a Christian life. At MACU, we help our M.Ed. students sharpen those capabilities, showing you ways to make a real and lasting impact in the classroom. In addition, we strive to instill a strong sense of mission in the teachers we train with the hope they will love, encourage, and edify their students as Christ would.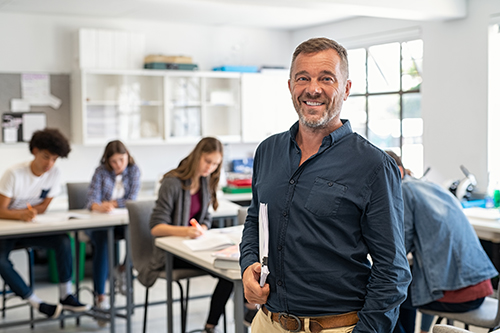 Major Courses
ED 5131
Orientation to Curriculum and Instruction
This course provides an overview of Curriculum and Instruction Theory, with training in the course management system (CMS). It will include course descriptions and rubrics used throughout the program.
ED 5143
Educational Psychology
This course focuses on theories and principles of psychology as they relate to education, particularly with respect to motivation, learning and development in students. Educators will apply these ideas toward the development of strategies designed to improve instructional experiences for a variety of student populations.
ED 5153
Language Acquisition, Literacy, and Reading (EC/Elem)
This course supports the educator with best practices for ongoing language development for all student-learners. Skills and resources designed to support building student vocabulary, fluency, and reading comprehension will be introduced and applied. In addition, the role of student-learner as communicator will be explored. This course is designed for those who teach Early Childhood or Elementary levels. Prerequisites: ED 5243 Instructional Strategies and Best Practices
ED 5173
Reading and Writing Across the Curriculum (ML/HS/Adult)
This course introduces prospective and practicing teachers to K-12 content reading strategies, progressing from general practices, cycles, and settings of instruction, to units of instruction and specific lesson planning. The course includes specific applications for six content areas: English/Language Arts, Second Language, Science, Social Studies, Math, and Activity Classrooms, with emphasis on (a) new digital literacies, (b) disciplinary literacies, and (c) English learners and students with special needs. It is designed for those seeking an alternative teaching certificate (ML-HS) or pursuing a M.Ed. in Curriculum and Instruction. Prerequisites: ED 5243 Instructional Strategies and Best Practices
ED 5163
Classroom Management
This course emphasizes the use of consistent, creative, compassionate and effective educator management skills while providing emotional, social, and physical security in the classroom. Educators will research and acquire management tools for building confidence, community and accountability for both teachers and student-learners. In addition, the role of teacher as a model and decision-maker will be examined.
ED 5243
Instructional Strategies and Best Practices
This course examines strategies and practices used in education to support academic growth for all student-learners. Educators will evaluate the implementation of approaches that build student success and explore the role of students as individual learners.
ED 5253
Assessment, Data Monitoring, and Applied Practice
This course explores the use of assessment as a guide to support student learner success. Educators will research evaluation methods and models and learn to use data for decision-making and planning.
ED 5263
Teaching Diverse Learners
This course explores the responsibilities of educators to actively consider the needs of various student-learner populations (i.e., students with exceptional needs, socioeconomic disadvantages, ethnic diversities, cultural and religious beliefs, and family dynamics) and the best practices for addressing them. Educators will research and acquire proactive approaches to build inclusion and community within a school, as part of a classroom setting and through authentic relationship building. In addition, the role of teacher as advocate for student-learners and learner needs will be examined. Prerequisites: ED 5243 Instructional Strategies and Best Practices
ED 5343
Curriculum Design and Action Research for Improved Practice
This course supports educators as curriculum designers who utilize data-driven lesson planning to meet the needs of student learners. Educators will investigate best practices in curriculum design and acquire a clear understanding of the benefits of utilizing the action research process to guide decision-making.
ED 5353
Communication and Technology in Education: Etiquette and Trends
This course explores expectations and boundaries of written and spoken communication by educators. Students will study the etiquette of various forms of communication used to express information to stakeholders. In addition, through this course of study, the role of technology as a growing tool for classroom instruction, assessment, and communication will be analyzed.
ED 5363
Teacher Leadership and Professional Contribution
This course examines the numerous aspects of the educator as a professional leader. Educators will study leadership concepts and opportunities in the field. In addition, the role of the educator as a contributor to the profession of education will be explored.
ED 5453
Capstone in Curriculum and Instruction
This course brings together the application of skills and concepts developed throughout the program. Educators will choose one of three projects to submit: (1) reflections on experiences as an ongoing learner and evidence of mastery pertaining to program outcomes and expectations, culminating in a portfolio of resources to support the role of teacher leader in the field of education; (2) Meta-Analysis on an approved topic, which specifically addresses at least one program outcome; (3) Research Thesis, a research plan must be submitted and approved during ED 5343.