Please rotate your device or try a device with a larger display to interact with the mural.

"HOME" Mural
Our students will have a greater understanding and awareness of local and global issues.
Artist: Shelly Walters
HOME is the first of four art pieces dedicated to our MACU Ends Policies.
The mural is located in Fozard Hall in Café 14:12, a gathering place for the MACU community. Generated directly from student & staff interviews and the 2022 Celebration of Cultures event, the mural reflects the various global cultures, traditions, landmarks, and places our students call "HOME."  The word HOME is woven in large letters on top of the many images, all of which have a story.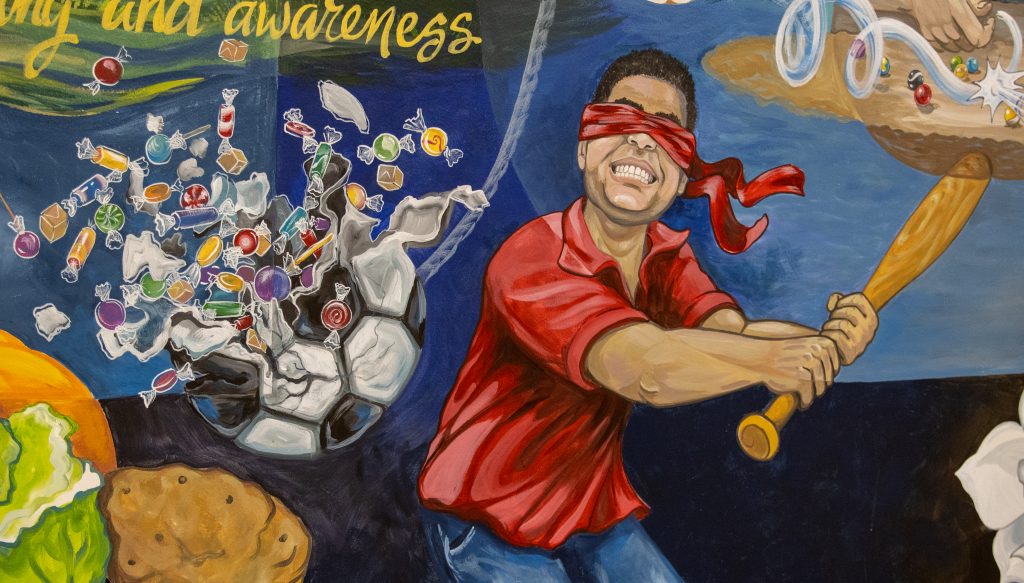 Watch a timelapse of the mural's completion:
About the Artist
Shelly Walters is an artist and muralist from Broken Arrow, Oklahoma. For over 30 years, Shelly has transformed schools, churches, hospitals, and homes into engaging spaces that spark the imagination. Shelly's talents are not limited to mural work alone. She is adept at interior design, 2 and 3-dimensional art and sculpture, and custom paintings. As a believer, Shelly draws her inspiration from the Lord. The beauty of His creation and the stories of the people she meets drive her designs. She wishes her art would spark joy, cause laughter, promote thought, and lead people to Jesus. Shelly Walters is available for consultation. To contact her, visit her Facebook page at https://www.facebook.com/shellywaltersmuralist or email her at [email protected].