Career Opportunities for Elementary Education Majors:
Teacher
Educational Policy Expert
Coach/Mentor
Online Educator
Tutor
Corporate Trainer
Training Specialist
Education Consultant
Grant Writer
Program Coordinator
Curriculum Developer
Education Administrator
MACU's Elementary Education Degree Prepares Teachers for a Rewarding Career
A good teacher can help children fall in love with learning, boost their self-esteem and provide the knowledge and loving support to help them chase their dreams. When you earn an elementary education degree at Mid-America Christian University (MACU), you'll gain comprehensive knowledge blended with real-world classroom experience and biblical principles to positively teach and guide children through the all-important elementary years. Our BA in Elementary Education program will prepare you to become an effective, ethical teacher in schools all over the world. Overall employment of kindergarten and elementary school teachers is projected to grow 7 percent from 2020 to 2030. As an elementary education major, you'll be learning to use your God-given talents to change the world as the average teacher will influence 3,000 students over the course of a career.
MACU, a Bible-based university, is accredited through the Higher Learning Commission (HLC) of the North Central Association of Colleges and Schools (NCA). Our School of Teacher Education is accredited through Oklahoma's Office of Educational Quality and Accountability using Council for the Accreditation of Educator Preparation (CAEP) standards.
Coursework Includes Teaching Methods, Confidence-building Strategies
Our program is designed around traditional theory, fundamental coursework and contemporary teaching methods. In addition to covering the traditional subjects such as math, science, social studies and English, the program also includes child/adolescent and educational psychology, and instrumental strategies. As you study to earn your degree in elementary education, you'll learn to identify and address each child's individual needs and use proven strategies to help children in first through eighth grades build confidence and excel in today's diverse classroom environment. You'll also learn how to build relations with parents and family members, how to integrate technology in the classroom and psychological theory as it relates to children and adolescents.
Before earning your Bachelor of Arts in Elementary Education degree, you'll have the opportunity to complete 110 hours of on ground field experience in a variety of schools that will provide observation and interaction with a variety of diverse students prior to their student teaching. When you complete your degree, you will be prepared to seek licensure in elementary education, and ultimately become a teacher who is a Christian role model to young students in private or public schools.
Earn Your BA in Elementary Education Online Quickly and Cost-Effectively
Among the many options you have for earning your bachelor's degree in elementary education, MACU, a private, Christian university located in Oklahoma City, offers several advantages. Our online programs are accredited, accelerated, and designed especially with busy adult students in mind. With the university's prior learning credits, eligible students can earn up to 30 credits per year for a wide range of life experiences, including on-the-job and vocational learning, ministry, volunteering and community service, and travel. These credits help you reduce both your program costs and the time it takes to complete your degree. MACU is also veteran and military friendly. If you are serving or have served in the past, any credits you earned get added to your online program directly.
Rather than taking multiple classes simultaneously, online undergraduates at MACU take just one five-week class at a time in a consecutive order. This helps you focus on one course, one professor, and one set of assignments at a time. If something unexpected comes up at work or at home, you can take the time off and easily jump back into school where you left off.
MACU makes entry into its online degree programs as easy as possible through:
Minimal upfront fees and a well-established orientation
Free placement testing and a thorough financial review before students even start
The first course in every online degree program (no book purchase required), which helps students get comfortable with the online learning process
Small classes and a strong student services team
A low faculty-to-student ratio
Tutoring and other student services
Development of community
As you prepare to begin your degree at MACU, our enrollment counselors are ready to assist you. Please take a look at this downloadable degree sheet, featuring an overview of MACU's Elementary Education degree program. Don't hesitate to reach out by emailing [email protected] or calling 888-888-2341 if you have any questions.
BA in Elementary Education: Learn, Grow & Thrive with MACU's Campus Community
At MACU, you'll find that you're not a number on our small campus of fewer than 1,500 students. Our professors, staff and students form a close-knit, vibrant community where everyone is free to be themselves as they learn, grow and discover. With clubs, organizations, and groups–faith-oriented, athletic, recreational, academic, and more–there are plenty of ways to get involved and meet friends. Our professors, who are experts in their field, have open-door policies that encourage students to seek support or just talk about their goals and dreams.
You'll love being in the heart of Oklahoma City, where there's always something to do. . No car? It's easy to get around–by street care, bus, bike, or scooter. Enjoy live music, good food, museums, festivals, national sporting events and more. There are also plenty of opportunities for teachers in OKC. Oklahoma City Public Schools is a multi-cultural district serving approximately 34,000 students in 33 elementary schools–and the district boasts one of the highest teacher compensation packages in the state. More than 10,000 students are enrolled in the city's private schools.
MACU benefits for on-campus students include:
Affordable Christ-centered education with opportunities for scholarships and aid
Low faculty-to-student ratio with accessible professors who truly care about you
Small, safe campus located in the heart of a growing, diverse major city
Thriving local job market with career-boosting opportunities
Support services that help students succeed
Recreational, academic, and faith-based activities and groups for all interests
Competitive athletics and esports teams
MACU Develops Christian Role Models
The influence educators have on young minds cannot be overstated. MACU's Christ-centered education develops future teachers who stand out as positive role models in the classroom and in life.
Our students have many opportunities to grow in their faith through chapel services, small, student-led discussions, and other faith-based activities. You'll be well prepared as a servant teacher, ready to inspire learning and bring the heart of Jesus Christ into classrooms near and far.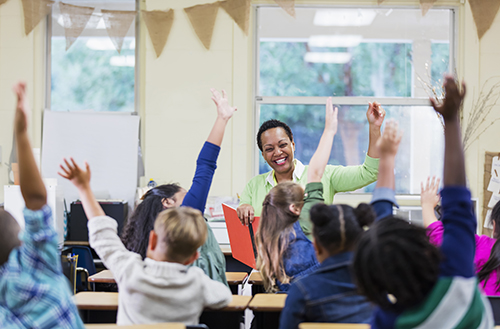 Major Courses
EDUC 2101
MACU Teacher Education Orientation
This course is intended to introduce teacher candidates to the requirements for state certification set forth by the Oklahoma Commission for Teacher Preparation (OCTP). Teacher candidates will also be introduced and learn the Global Vision Conceptual Framework and other MACU education requirements. Before being accepted into the School of Teacher Education, all students are required to pass this course. Prerequisite: Completed 21 hours of general education. Co-requisite: EDUC 2102. Offered every semester.
EDUC 2102
Educational Foundations
This course is intended to introduce teacher candidates to the field of education. Historical, philosophical, sociological, and curricular foundations of American education; current issues of multicultural education, governance, and support of American education; and legal issues will be explored. Corequisite: EDUC 2101. Offered every semester.
EDUC 4203
Instructional Strategies, Mgmt., and Assessment I
This course provides practice in the educational theories of effective instructional strategies, classroom management, and a variety of assessments, especially alternative and authentic assessments; and the involvement of parents/caregivers and the community in the learning process. Offered every spring semester.
EDUC 4213
Instructional Strategies, Mgmt., and Assessment II
This course further develops the knowledge base ad skills from EDUC 4203 Instructional Strategies, Management, and Assessment I. Prerequisite: EDUC 4203. Offered every fall semester.
ECED 3223
Literacy Methods for Early Childhood
This course focuses upon the National Association for the Education of Young Children (NAEYC) and Oklahoma State Reading/ English Language Arts Standards as they relate to Early Childhood grade level indicators, with emphasis on reading and writing processes and applications. The focus will be on teaching children to consider themselves to be readers and writers from the time they can listen to a story or hold a pencil. Comprehension strategies such as predicting & confirming, retellings, language experience activities, and literature circles and literature response activities will be tied in with age appropriate experiences for the authoring process, literature appreciation, and authentic oral and silent reading practices. Appropriate use of authentic assessment techniques, language/literacy immersion, multicultural literature, techniques for teaching to the multiple intelligences and the use of research and technology in the teaching of reading will help teacher candidates learn to teach to the individual. A supervised (ten) 10-hour field experience in an early childhood setting will include activities developing reading related materials (such as an interactive bulletin board), planning and teaching lessons with the guidance of the professor and the cooperating teacher, and field experience reports reflecting upon classroom observations and activities as they relate to concepts studied in class. Offered every fall semester.
EDEL 3203
Methods of Reading in the Intermediate Grades
This course is specifically designed to build a framework for understanding the literacy development, assessment and instruction of reading for students in the intermediate (fourth through eighth) grades. Attention will be given to the five components of reading instruction, especially fluency, word identification, vocabulary and comprehension. Reading approaches, reading as it relates to language and literature, reading in the content area, study skills, and readers with special needs will also be addressed. Classroom management, motivational techniques, rights of students, teachers, and parents will be studied. Oklahoma Academic Standards will be aligned to the classroom content. Five (5) hours of field experience are required. Prerequisite: EDUC 2101, EDUC 2102, and EDUC 4203, ECED 3223 in the Primary Grades which is taken concurrently with this course and acceptance into the Teacher Education program. Offered every fall semester.
EDEL 3303
Methods of Elementary Science
This course includes the study of curriculum, concepts, methods, and materials in science and health education in elementary school. Emphasis will be placed on cognitive development for children in primary grades and intermediate/middle school grades, objectives designed to increase understanding of scientific methods, laws and principles, classroom management, community/parent relations, and the use of technology in the science classroom. Oklahoma Academic Standards (C3) will be basic to the class content. Five (5) hours of field experience is required.
EDEL 3503
Methods of Elementary Music and Art Integration.
This course is designed to teach methods of general music and visual art in grades K-8. The emphasis will be to integrate music and art into the core subjects to enhance students' academic performance, social skills, content learning, and to become an integral part of the students' lives. The six essential components needed for an elementary classroom music program will be addressed (listening, moving/dancing, singing, reading, making and playing instruments, and creating). Classroom management of time, materials, and students will be included. Art/music appreciation and creativity will be taught and encouraged. The Priority Academic Student Skills (PASS) will be basic to the class content. Five (5) hours of field experience is required in art/music classes K-8. Prerequisite: EDUC 2101, EDUC 2102, EDUC 4203 and EDUC 4213 and accepted into the Teacher Education Program. Offered every fall semester.
EDEL 4304
Diagnostic and Prescriptive Reading with Reading Practicum
Teacher candidates enrolled in this course will explore a wide range of issues and factors related to language and literacy assessment and instruction. They will also examine the best practices for and develop proficiency in supporting children's language and literacy development from first through eighth grades. In the practicum, teacher candidates will assess a student; interpret assessment findings; identify their strengths and needs as language and literacy learners; and choose instructional strategies for tutoring purposes in order to develop their students' ability to become strategic readers and writers. Oklahoma Academic Standards (C3) fifteen (15) hours of field experience is required. Prerequisites: EDUC 2101, EDUC 2102, ECED 3223, EDEL 3203, and acceptance into Teacher Education Program. Offered each fall semester.
EDEL 4503
Methods of Elementary Language Arts
This course includes methods of instruction in grammar, spelling, handwriting, purposeful writing, listening, speaking, visual literacy, and reading the genre of children's literature for the elementary language arts program. Attention is given to evaluation of curriculum, classroom management and organization, assessment of reading and writing, educational media, and the importance of language arts skills in all subject areas. Oklahoma Academic Standards (C3) will be basic to the class content. Five (5) hours of field experience is required in K-8 language arts classrooms. Prerequisites: EDUC 2101, EDUC 2102, EDUC 4203, and EDUC 4213 and acceptance into the Teacher Education Program. Offered every spring semester.
EDEL 4603
Methods of Elementary Social Studies
This course draws upon the various disciplines of social studies. Technology resources, classroom diversity needs, classroom management, character values including respect and responsibility, and citizenship education will be studied. Models of civic courage, democratic ideals and practices, tragedies and victories of the American way (liberty and justice for all) will be subjects of study. Debate and decision making are part of the Social Studies curriculum. The competencies of National Council for the Social Studies are incorporated into the objectives of the course. Oklahoma Academic Standards (C3) will be basic to the class content. Five (5) hours of field experience in social studies classrooms are required. Prerequisites: EDUC 2101, EDUC 2102, EDUC 4203 and EDUC 4213 and acceptance in the Teacher Education Program. Offered every spring semester.
EDEL 4803
Methods of Elementary Math
This course has as its focus the methods and materials, including technology for teaching elementary school mathematics. The purpose of the course is to help pre-service students become confident in their ability to teach mathematics so they can do the same for their future students. It is predicated upon a constructivist approach to teaching elementary mathematics as recommended by the NCTM Principles and Standards for School Mathematics. Oklahoma Academic Standards (C3) Emphasized are the content of elementary mathematics, and the methods and materials useful to teach it. Five (5) hours of field experience is required. Prerequisites: MATH 1513, EDUC 2101, EDUC 2102, EDUC 4203 and EDUC 4213 and acceptance in the Teacher Education Program. Offered every fall semester.
EDEL 3403
Children's Literature
This course is designed to help the student acquire a wide acquaintance with children's literature, both old and new, and to learn ways and means to develop, stimulate and guide children's reading of literature presented. In addition, it will assist future teachers in guiding children toward a more comprehensive creative and insightful utilization of literary materials. Prerequisite: EDUC 2101, EDUC 2102, and acceptance into the teacher education program
EDUC 3103
Educational Psychology
This course includes basic and current learning theories, psychological principles applied to learning, and classroom management and assessment. Twenty-five (25) hours of field experience is required. Prerequisite: PSYC 1103. Offered every spring semester.
EDUC 3233
Probability and Statistics for Teachers
The study of rational numbers, decimal notations, real numbers, probability, and statistics. Collection, recording, and data analysis to enable data-based decisions will also be explored.
EDUC 3303
Development Across the Life Span
This course is a study of human development and the nature of those social structures which impact it, especially social, emotional, physical and cognitive aspects of human development throughout the life span. Prerequisite: PSYC 1103.
EDUC 4223
Students with Exceptionalities
This course is an introduction to the characteristics, needs, problems, and behavior patterns of exceptional children; and the various educational approaches used with them. Topics central to special education today – inclusion, diversity, assistive technology, collaboration, and multidisciplinary teams, will all be studied. The intellectual, physical, emotional, and behaviorally handicapped children will be studied, as well as gifted children and handicapped adults. Ten (10) hours of field experiences in special education and gifted classes will be required. Offered every fall semester.
EDUC 4909
Student Teaching
This course gives the student teacher firsthand experience in the school setting through observation/teaching in an accredited school. He or she will spend sixteen weeks in this course with fourteen weeks in the actual classroom under the supervision of both a cooperating teacher at a cooperating public school and the university supervisor. A teacher work sample and video tapes will be completed. Prerequisite: completion of classes in specialization and professional education. Offered every semester.