MBA Healthcare Management Career Opportunities
Hospital Administrator
Finance Manager
Health Director
Clinic Manager
Public Health Policy Analyst
Health Services Administrator
Human Resources Development Manager
Quality Assurance Specialist
Nurse Manager (if already a nurse)
Healthcare Consultant
Nursing Home Administrator
Health Insurance Operations Director
Pharmaceutical Product Manager
Healthcare Sales/Marketing Manager
Step Up to Leadership Roles with an Online MBA in Healthcare Management
The demand for healthcare administrators is skyrocketing–with approximately 51,800 positions projected each year, on average, over the next decade–and Mid-America Christian University (MACU) in Oklahoma City is preparing effective, ethical leaders to fill these positions. An MBA healthcare management degree will prepare you to make an impact in this growing industry with a skill set in general business and specialized knowledge pertaining to healthcare management. MACU is accredited through the Higher Learning Commission (HLC) of the North Central Association of Colleges and Schools (NCA).
When you earn an MBA in healthcare administration, you're positioning yourself for a stable and rewarding career. Employment of medical and health services managers is projected to grow 32 percent from 2020 to 2030, much faster than the average for all occupations. CNN recently named hospital administrator–just one of the many career paths for an MBA healthcare graduate– as one of the best jobs in America because professionals in that position can make a real difference in the lives of medical personnel, employees, and volunteers, as well as members of the community who rely on a hospital to meet their healthcare needs.
MACU's healthcare management online degree combines important business concepts in management, finance, marketing, and operations with the business side of healthcare. Our highly specialized healthcare MBA will prepare you to take on leadership roles, execute plans for quality improvement, and enhance processes and programs in clinical and non-clinical settings such as hospitals, long-term care facilities, rehabilitation facilities, pharmaceutical companies, insurance companies, and more.
Why Choose MACU's Online Healthcare MBA?
Our online master's in healthcare administration emphasizes the strategic implementation of ideas and processes so that you'll graduate ready to make a direct impact when you apply what you've learned. In our program, you'll build on your broad knowledge of business practices gained in core MBA classes by taking healthcare industry-specific courses in human resources development and management, legal and regulatory issues, finance, information management, technology, and operations management.
As you accumulate specialized knowledge, you'll expand your understanding by discussing material and sharing experiences with peers. MACU is a faith-based university and is committed to developing our students holistically so each assignment in the program includes a spiritual dimension.
Program Information
Online Healthcare MBA: A Flexible Path to Your Career Goals
Since 2008, we've been offering online learning courses–accredited, accelerated, affordable, and developed with working adults in mind. Our six-week classes are designed so you won't have to choose between your current career and furthering your education. We also offer credit for life and work experience which can help you reduce your program costs and the time it takes to complete your degree. Although this degree is offered completely online, select courses may be offered on campus depending on student interest and faculty availability.
All our professors have real-life, on-the-job experience in the business of healthcare management, and they have a passion for sharing their knowledge with students. You won't feel like a number in our small classes and our instructors and staff will do everything they can to make you feel like a part of the MACU community. Here are some of the benefits for MACU's online adult students:
Just one class at a time in a consecutive order
Small teacher-to-student ratio
No GMAT required for entrance
Full support–including tutoring and student services
Career networking opportunities
Emphasis on soft skills training
Christ-centered instruction
MACU Offers Christ-centered MBA Program
For our adult learners, we offer the rare opportunity to grow personally, professionally and spiritually. Our MBA program develops servant leaders with a Christian perspective. Our instructors teach strategies based on the virtues and character of Christ, producing healthcare professionals who strive to lead effectively and ethically and will serve as role models for their team.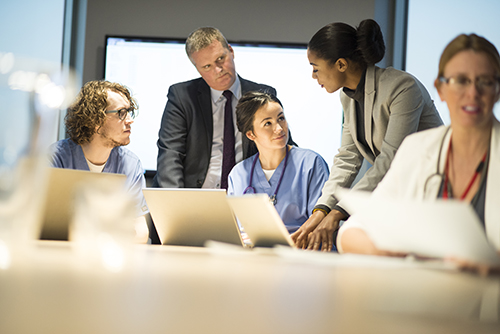 Courses
ACCN5133

Managerial Accounting

This course introduces the financial statement, their sources and functions, and managerial control systems involved with the accounting process, including variance analysis and budgeting. It serves as an overview of the accounting function and its use in the management of the functional units within the organization.

ECON5223

Managerial Economics in the Globalized Environment

This course applies the principles of economics to rational business operations. The course will focus on managerial economics: demand theory, pricing and elasticity, forecasting and production levels, costs, capital allocation, distribution, and consumption. Students will explore such economic concepts as opportunity costs, the concepts of supply versus demand, profit maximization, and monetary systems. Economic geopolitical events with cause and effect relationships will be highlighted throughout the course.

FINC5333

Modern Corporate Finance

This course examines corporate utilization and allocation of monetary resources, capital, budgeting, the time value of money, security valuation, debt-equity structure, international finance, weighted average cost of capital, and other financial issues are examined with a view toward providing the student with decision-making tools for risk and investment analysis.

HC5213

Health Care Management

This course will review the unique nature of planning, organizing, and leading performed by managers in health care organizations. The course will include a review of the functional disciplines of management including; marketing, accounting, finance, legal, information systems, human resource behavior and management, and management science and their application in the health care environment.

HC5223

Health Care Legal Environment

This course will focus on the law as it relates to the delivery of health care in hospitals, nursing homes, medical offices and other medical care environments. The course will analyze the concepts associated with modern tort law as it applies to health care and will also review other areas of law that impact health care including contracts, criminal law, employment law, and other laws governing business organizations.

HC5233

Health Care Finance

This course provides an overview of the health care financial issues and explores the current financial climate. Issues in reimbursement structures, regulatory mechanisms, and cost controls are discussed. For profit and not for profit financial statements and annual audits are reviewed and analyzed.

HC5243

Health Care Information Systems

This course provides an introduction to technological tools that support health care administration, management, and decision making.

MGMT5113

Organizational Behavior

This course introduces the theories of behavior in human management. A critical analysis is performed on the contributions to the organizational behavior discipline and its research as applied to the business environment. The student will apply the theories of its research as applied to the business environment. The student will apply the theories of culture development, time management, job design, change, motivation, leadership development, communication, small group dynamics, and negotiation in the business setting.

MGMT5233

Marketing Analysis and Strategy

This course examines the marketing functions and strategies related to the product, place, price and promotion of goods or services provided by the organization. The student will become familiar with the elements of a marketing plan and will be capable of analyzing complex situations leading to feasible solutions.

MGMT5323

Human Resource Management

This course focuses on the human resource management functions in profit and nonprofit organizations. Major topics include: human resource planning, legal requirements, job analysis and design, recruitment, selection, placement, training and development, performance appraisals, career development, compensation and benefits, and reward systems. It will examine how diverse human resource management functions contribute to corporate profitability and why they are critical to an organization's long-term survival. Students will explore the interdependencies between human resource and organizational strategies.

MGMT5353

Communication in Professional Organizations

This course is designed to groom the aspiring business professional leader to deliver professional, concise, powerful, and audience appropriate communication by utilizing the most acceptable tools, modes and media available. This will also sensitize the professional to appropriate communication etiquette and protocols to help ensure the credibility and effectiveness of the intended message.

MGMT5413

Legal Environment

This course examines the impact of laws and the legal system on the business environment and managerial decision making. Major topics include: contracts, commercial transactions, agency relationships, organization choices, federal-state-local governance with special emphasis on EEOC and ADA issues, property law, and hiring practices. Special emphasis will be placed on recent court cases impacting the business arena.

MGMT6313

Management Science

This course is an in-depth study of the application of the scientific approach to managerial decision making. Students will become familiar with the quantitative methods used in solving business problems. Using mathematical modeling, the student will formulate computer-based solutions to problems related to operations, marketing, finance, and other functions encountered in organizations.

MGMT6423

Strategic Business Management

This course demonstrates the strategic linkage between the functional disciplines (marketing, accounting, finance, legal, information systems, human resource behavior and management, and management science) within the strategic management process. This course focuses on how managers originate, implement, and assess strategies and serves as a capstone for the MBA program.