MBA Human Resources Job Opportunities
Human Resources Manager
Training and Development Manager
Management Analyst
Payroll Manager
Labor Relations Specialist
Compensation and Benefits Manager
Become An Ethical Employee Advocate With MACU's Online MBA In Human Resources
An online MBA in Human Resources online from Mid-American Christian University (MACU) is a degree that creates pathways to help HR professional(s) move up to the next level, both on the corporate structure chart and on the pay scale. What distinguishes MACU's program from most is the Christ-centered teaching, providing students with the ability to lead others from an ethical position, always putting the employees that they are responsible first in their priorities.
Coursework in the MBA in HR program includes practical knowledge on the topics of management, recruiting, labor law, professional communication and development. The curriculum means students graduate with work-ready skills, prepared to sit for HR certification exams. Students graduate ready to integrate their general business skill sets and concentrated knowledge in human resource management as they lead across a wide range of businesses. Human resources positions continue to be a growing field, with opportunities expected to increase as much as 9% in the next twenty years.
Program Information
An Online MBA in Human Resources That Moves You Forward, No Matter How Busy Your Life Is
MACU excels in online learning, continuously improving programs since 2008. That means we know how to help you successfully complete your degree and can provide all the tools and resources you need. The program consists of one six-week course at a time, minimizing your stress and maximizing your time.
Although this degree is offered completely online, select courses may be offered on campus depending on student interest and faculty availability.
Courses in MACU's Master of Business Administration program cost $618 per credit hour.
There's no Graduate Management Admissions Test (GMAT) required to apply.
MACU's online MBA program has been rated Oklahoma's best among private universities.
MACU's program is accredited through the Higher Learning Commission (HLC) of the North Central Association of Colleges and Schools (NCA).
HR Managers with Impeccable Ethics Are an Asset to Every Company
As an HR professional, you'll cradle the lives of other employees in your hands. Every human resources decision impacts someone, often not in the way they want. That means HR leadership skills based on the principles of Christ are a priceless asset, not only to the company you work for but for the employees you are tasked with hiring and managing.
It's that kind of education, where your faith builds with each educational step forward you make, that will guide you as you move forward in your career. At MACU we create thought leaders from faith leaders.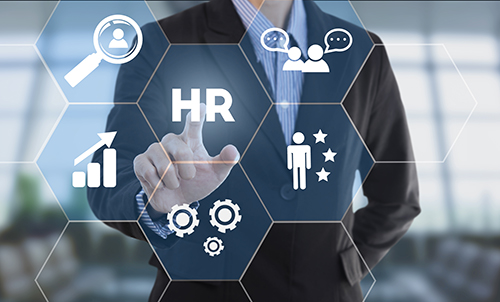 Courses
ACCN5133

Managerial Accounting

This course introduces the financial statement, their sources and functions, and managerial control systems involved with the accounting process, including variance analysis and budgeting. It serves as an overview of the accounting function and its use in the management of the functional units within the organization.

ECON5223

Managerial Economics in the Globalized Environment

This course applies the principles of economics to rational business operations. The course will focus on managerial economics: demand theory, pricing and elasticity, forecasting and production levels, costs, capital allocation, distribution, and consumption. Students will explore such economic concepts as opportunity costs, the concepts of supply versus demand, profit maximization, and monetary systems. Economic geopolitical events with cause and effect relationships will be highlighted throughout the course.

FINC5333

Modern Corporate Finance

This course examines corporate utilization and allocation of monetary resources, capital, budgeting, the time value of money, security valuation, debt-equity structure, international finance, weighted average cost of capital, and other financial issues are examined with a view toward providing the student with decision-making tools for risk and investment analysis.

HR5213

Compensation and Benefits Administration

This course explains and explores the diversity of benefit offerings while discussing the complimentary and distinctively different nature of each in terms of the total compensation package. The evolution of the power of benefits, the challenges associated with administration of benefits, and the laws that govern such administration are also examined.

HR5223

Human Resource Development

This course examines the dynamics of creating and implementing strategies to improve the effectiveness of employee contributions throughout an organization. This involves the analysis of opportunities to enhance position growth, skills development, performance management etc., to help ensure a culture of individual success as well as organization success.

HR5233

Recruiting and Selection

This course examines the process of recruiting through identification of key sources of talent including the use social media, traditional media, and other creative approaches to identifying pools of eligible talent. The process of selection is then pursued by exploring the processes of screening through the point of extending an offer and onboarding.

HR5243

Labor Law and Employee Relations

This course delves deeply into the body of employment law that guides and informs the human resource professional's conduct, decisions, and performance of key responsibilities within both union and non-union environments. The course will examine statutory and "case" law and regulations at all levels that have an impact on the employee/employer relationship.

HR6213

Capstone; HR Body of Knowledge for Professional Certification

This course is specifically designed as a comprehensive review and analysis of the "body of knowledge" and creating a substantive level of familiarity and understanding of the professional field of human resources required to effectively and knowledgeably work within an effective human resource department. The intent of the course is not only to provide a level of knowledge to work effectively, but also to prepare the student to sit for the professional certification through the certifying organization of their choice.

MGMT5113

Organizational Behavior

This course introduces the theories of behavior in human management. A critical analysis is performed on the contributions to the organizational behavior discipline and its research as applied to the business environment. The student will apply the theories of its research as applied to the business environment. The student will apply the theories of culture development, time management, job design, change, motivation, leadership development, communication, small group dynamics, and negotiation in the business setting.

MGMT5233

Marketing Analysis and Strategy

This course examines the marketing functions and strategies related to the product, place, price and promotion of goods or services provided by the organization. The student will become familiar with the elements of a marketing plan and will be capable of analyzing complex situations leading to feasible solutions.

MGMT5323

Human Resource Management

This course focuses on the human resource management functions in profit and nonprofit organizations. Major topics include: human resource planning, legal requirements, job analysis and design, recruitment, selection, placement, training and development, performance appraisals, career development, compensation and benefits, and reward systems. It will examine how diverse human resource management functions contribute to corporate profitability and why they are critical to an organization's long-term survival. Students will explore the interdependencies between human resource and organizational strategies.

MGMT5353

Communication in Professional Organizations

This course is designed to groom the aspiring business professional leader to deliver professional, concise, powerful, and audience appropriate communication by utilizing the most acceptable tools, modes and media available. This will also sensitize the professional to appropriate communication etiquette and protocols to help ensure the credibility and effectiveness of the intended message.

MGMT5413

Legal Environment

This course examines the impact of laws and the legal system on the business environment and managerial decision making. Major topics include: contracts, commercial transactions, agency relationships, organization choices, federal-state-local governance with special emphasis on EEOC and ADA issues, property law, and hiring practices. Special emphasis will be placed on recent court cases impacting the business arena.

MGMT6313

Management Science

This course is an in-depth study of the application of the scientific approach to managerial decision making. Students will become familiar with the quantitative methods used in solving business problems. Using mathematical modeling, the student will formulate computer-based solutions to problems related to operations, marketing, finance, and other functions encountered in organizations.

MGMT6423

Strategic Business Management

This course demonstrates the strategic linkage between the functional disciplines (marketing, accounting, finance, legal, information systems, human resource behavior and management, and management science) within the strategic management process. This course focuses on how managers originate, implement, and assess strategies and serves as a capstone for the MBA program.