International Business Opportunities
Global Marketing Executive
International Sales Executive
International Logistics Coordinator
Supply Chain Manager
International Trade Compliance Manager
Global Projects Manager
Economist
Information Security Analyst
Chief Marketing Officer (CMO)
Real Estate Development Manager
Business Development Manager
Management Analyst
Chief Executive Officer
An MBA in International Business Puts You on the Fast Track to a Global Position
At Mid-American Christian University (MACU), an MBA degree with a concentration in International Business has job potential cut straight from the headlines. Never has there been more opportunity for those trained in the skills needed to manage supply chain logistics, supervise international security concerns, or to oversee the marketing of products around the globe. The program emphasizes the practical application of business knowledge so that students complete the degree prepared to tackle business anywhere in the world. Among the many careers a Master's of International Business degree prepares students for, information security analysts with an MBA are expected to grow an incredible 33% in the next two decades. Supply chain managers have similar growth projections.
The Master's of International Business program draws from a deep knowledge base of current business professionals, allowing our students to gain up-to-date information preparing them for the global business world as it is right now. Coursework includes studies of the international economic picture, as well as international law and global marketing. The work is designed to develop a better understanding of how business practices differ internationally, while learning networking skills you can rely on no matter where you are in the world. And at MACU, it's all taught with a Christ-centered approach.
Program Information
A Master's in International Business That Fits Seamlessly into Your Work Life
MACU's online MBA program, rated Oklahoma's best among private universities, is accredited, accelerated, and designed with busy adult students in mind. Courses in MACU's Master of Business Administration program cost $618 per credit hour, and the Graduate Management Admissions Test (GMAT) is not required to apply. Other benefits include:
Minimal upfront fees and a well-established orientation program
Small classes / low faculty-to-student ratio
Christ-centered instruction
Just one class at a time in a consecutive order
A full complement of student services
Many connections to the MACU community
MACU's program is accredited through the Higher Learning Commission (HLC) of the North Central Association of Colleges and Schools (NCA). Although this degree is offered completely online, select courses may be offered on campus depending on student interest and faculty availability.
As you prepare to begin your degree at MACU, our enrollment counselors are ready to assist you. Please take a look at this downloadable degree sheet, featuring an overview of MACU's Master of Business Administration (MBA) program. Don't hesitate to reach out by emailing [email protected] or calling 888-888-2341 if you have any questions.
International Business Management From a Christian Perspective
With your degree from MACU, you'll always carry a hidden advantage: the ability to lead from a Christian perspective. You'll know that ethics and morale management are more important than the bottom line and can encourage those values in those who work on your team.
Your MBA degree from MACU places you in the elite group of leaders who value ethics above all else. Even more importantly, as you develop your business leadership skills, you'll grow in your Christian faith, incorporating the strong morals and principles required to lead in today's complicated international business climate.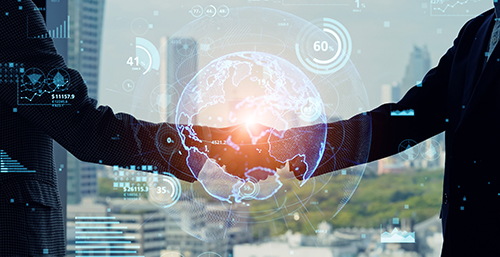 Courses
ACCN 5133
Managerial Accounting
This course introduces the financial statement, their sources and functions, and managerial control systems involved with the accounting process, including variance analysis and budgeting. It serves as an overview of the accounting function and its use in the management of the functional units within the organization.
ECON 5223
Managerial Economics in the Globalized Environment
This course applies the principles of economics to rational business operations. The course will focus on managerial economics: demand theory, pricing and elasticity, forecasting and production levels, costs, capital allocation, distribution, and consumption. Students will explore such economic concepts as opportunity costs, the concepts of supply versus demand, profit maximization, and monetary systems. Economic geopolitical events with cause and effect relationships will be highlighted throughout the course.
FINC 5333
Modern Corporate Finance
This course examines corporate utilization and allocation of monetary resources. Capital budgeting, the time value of money, security valuation, debt-equity structure, international finance weighted average cost of capital, and other financial issues are examined with a view toward providing
MGMT 5113
Organizational Behavior
This course introduces the theories of behavior in human management. A critical analysis is performed on the contributions to the organizational behavior discipline and its research as applied to the business environment. The student will apply the theories of its research as applied to the business environment. The student will apply the theories of culture development, time management, job design, change, motivation, leadership development, communication, small group dynamics, and negotiation in the business setting.
MGMT 5323
Human Resource Management
This course focuses on the human resource management functions in profit and nonprofit organizations. Major topics include: human resource planning, legal requirements, job analysis and design, recruitment, selection, placement, training and development, performance appraisals, career development, compensation and benefits, and reward systems. It will examine how diverse human resource management functions contribute to corporate profitability and why they are critical to an organization's long-term survival. Students will explore the interdependencies between human resource and organizational strategies.
MGMT 5413
Legal Environment and Ethics
This course examines the impact of laws and the legal system on the business environment and managerial decision making. Major topics include: contracts, commercial transactions, agency relationships, organization choices, federal-state-local governance with special emphasis on EEOC and ADA issues, property law, and hiring practices. Special emphasis will be placed on recent court cases impacting the business arena.
MGMT 5233
Marketing Analysis and Strategy, Sales and Consumer Behavior
This course examines the marketing functions and strategies related to the product, place, price and promotion of goods or services provided by the organization. The student will become familiar with the elements of a marketing plan and will be capable of analyzing complex situations leading to feasible solutions.
COMM 5103
Advanced Professional Communication and Leadership Practicum
Advanced Professional Communication Leadership will provide a dynamic range of oral, written, and digital communication opportunities that will enhance student experience through diverse presentation methods. The course will posit opportunities for students to employ concepts, strategies, and content selected from individual areas of interest and adapt these labors into public and/or digital performances that demonstrate applied skills across multiple modalities.
MGMT 6313
Management Science/Operations Management
This course is an in-depth study of the application of the scientific approach to managerial decision making. Students will become familiar with the quantitative methods used in solving business problems. Using mathematical modeling, the student will formulate computer-based solutions to problems related to operations, marketing, finance, and other functions encountered in organizations.
MGMT 6423
Strategic Business Management
This course demonstrates the strategic linkage between the functional disciplines (marketing, accounting, finance, legal, information systems, human resource behavior and management, and management science) within the strategic management process. This course focuses on how managers originate, implement, and assess strategies and serves as a capstone for the MBA program.
ECON 5233
International Economics
This reviews the determinants of aggregate output, employment, wages, unemployment, consumption, investment, international trade flows, interest rates, exchange rates, prices and inflation in open economies; sources and nature of economic growth; effects of domestic and foreign monetary and fiscal policies; effects of trade and exchange rate policies.
MGMT 6403
International Business Law
This course introduces students to the central concepts of comparative legal systems and to major contemporary political economic trends that are reshaping the context in which private international transactions are conducted in North America, Europe, East Asia, and other countries.
MGMT 6443
International Business Strategies
This course focuses on strategic frameworks and skills that are critical to successfully compete in the global marketplace. Topics include the content of an economic environment, and the cultural, ethical and legal issues that arise when conducting business internationally. Students will learn how companies enter foreign markets and grow international subsidiaries, succeed in mergers and acquisitions, and cooperate in joint ventures and strategic alliances.
COMM 5113
Global Marketing and Strategic Networking
Global Marketing and Strategic Networking will expand knowledge and familiarity with cross-cultural, digital, and global marketing trends. Students will connect with and hear from international voices. Ultimately, the course's educational journey embraces experiential learning as a mechanism to broaden knowledge of contemporary transnational practices and perspectives.