Ministry Leadership Career Opportunities
Pastor
Associate Pastor
Youth Pastor
Church Staff Member
Campus Minister
Children's Minister
Christian Camp Director
Nonprofit Staff Member
Missionary
Chaplain
MACU Offers Christian Degrees to Grow Your Faith & Impact the World
Make an undergraduate degree in ministry leadership from Mid-America Christian University (MACU) your first step toward changing the world locally and globally for Christ. Available on our Oklahoma City campus, this well-rounded degree program prepares you to communicate, lead, care, and think biblically and theologically as you enter into entry-level ministry positions. You'll also develop skills in education, advocacy, counseling, cross-cultural understanding, public speaking, and conflict resolution, which will can help you succeed in a broad range of occupations. Program graduates often fulfill various roles within church ministry and nonprofit or parachurch organizations as a pastor, teacher, leader, or administrator.
As a unique feature of MACU's ministry studies, this degree can be taken as a multi-disciplinary program with one of our other programs. It's also the ideal steppingstone for graduate studies in ministry, Bible and theology, and other related programs.
In addition to the foundational Bible and theology courses, other classes in our church ministry degree address Christian formation, evangelism, discipleship, worship, homiletics, youth ministry, church administration, pastoral care, inductive Bible study methodology, Church of God (Anderson, Ind.) and Wesleyan theology, nonprofit and American church law, and experiential learning opportunities.
Four Optional Concentrations for Ministry Leadership Degree
Ministry leadership majors have the option of adding a concentration to their studies. Ask an advisor for more details about:
Children's Ministry Concentration
A strong foundation of spirituality is essential for children as they begin to know Christ in their daily life and grow in their faith. With MACU's children's ministry concentration, you'll be prepared with the skills and knowledge to reach and serve the youngest members of God's family. This concentration is a good fit for students who want to inspire and engage with children in roles such as children's pastor, director of children's ministry or children's ministry coordinator.
Christian Worship Concentration
For Christians, worship is an essential part of faith and practice. While worship can and should happen both inside and outside church buildings, MACU's Christian worship concentration provides the training you'll need to lead a structured music ministry. Classes include a study of the Psalms and other poetic literature, hymnology, and other pertinent topics, as well as an internship.
Pastoral Care Concentration
MACU's Pastoral Care Concentration goes beyond evangelic leadership, teaching you how to help others with their day-to-day struggles. You can be the guiding light they need to walk through life's challenges. With an emphasis in pastoral care, you will explore topics including professional conduct, Stephen ministry and expanded courses on ethics.
Youth Ministry Concentration
Today's young people crave leadership now more than ever. They struggle with the morals of societal norms as they look for, and often don't find mentors to help them navigate the dangerous waters of adolescence. With a B.S. in Ministry Leadership with a Youth Ministry concentration from MACU, you will be equipped to lead, advise and shape youth in a nurturing Christian environment. Graduates may fulfill various roles as a youth worker, youth pastor, ministry administrator, a nonprofit worker, or a member of domestic or international ministry.
Program Information
MACU's BS in Ministry Leadership Degree On Campus: Faith With a Purpose
It's vital for future ministers and pastors to have a firm grasp of the Bible and how to read, interpret and apply its teachings in different situations. Our bachelor's degree in pastoral ministry will equip you with a strong foundation in biblical history and the Christian Church, preparing you to minister others with a firm understanding of biblical principles. Our ministry professors include licensed pastors and theological experts who have committed their lives to Christ by furthering His ministry in the classroom.
By completing the degree on campus, students study in a welcoming Christian environment where professors are accessible and fellow students are like-minded. In addition to growing your knowledge base in preparation for your future career, you will experience spiritual growth through a close-knit Christian community, chapel services, devotionals, clubs, and more.
Plus, MACU's proximity to Oklahoma City provides students with access to a wide array of adventures to explore. Think mountain biking at nearby state parks or time spent exploring restaurants, museums, and other attractions OKC is famous for. And don't forget sports. From rodeos to professional basketball, there are sporting events throughout the year.
Here's how a MACU ministry degree fits into your educational goals:
Degree programs that are efficient and affordable
Low student-to-faculty ratio
Christ-centered student body
Competitive sports (including e-sports)
A safe and secure campus, suitable for both residential and commuting students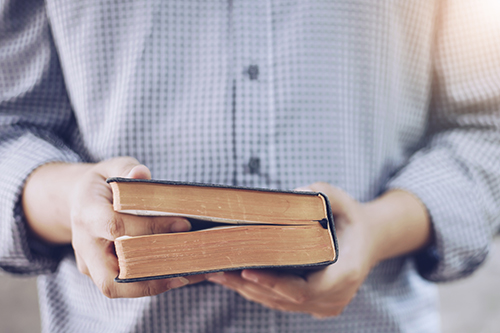 A Ministry Leadership Degree to Further God's Kingdom
Every program at MACU is taught with a Christ-centered focus, but our ministry degrees teach students how to share the Word of God as a Christian leader and shepherd. It's part of our mission to prepare students to answer and fulfill God's calling and further His kingdom through full-time ministry. Our professors are knowledgeable, accessible, and eager to assist your journey as disciple maker.
Major Courses
BINT 3103
The Synoptic Gospels
An exegetical study of selected passages in the Gospels of Matthew, Mark, and Luke. Attention is also given to the Synoptic relationship, authorship, date, and message of each book.
BINT 3103
Pastoral Letters
An examination of the pastoral letters of Paul to Timothy and Titus utilizing the inductive method of Bible study. Students will be introduced to the inductive Bible study methodology, which will focus on survey of books as wholes, as well as specific parts of the text in light of their context within the book. Specific attention will be given to the evaluation of personal qualifications for pastoral ministry and practical application of ministerial leadership within the church.
BINT 3703
History of Christian Thought
A survey of key event and figures in the history of Christian thought from the conclusion of the New Testament to the present.
BIOT 3513
Isaiah
A study of Isaiah and his contribution to Hebrew prophesy. An analytical treatment of the book of Isaiah, including its history, critical problems, main ideas, and thought. Particular attention is given to the messianic passages
THEO 2103
Systematic Theology I
An introductory study of what it is possible for us to know about God, humanity, sin, salvation, sanctification, the church, and the end of the world.
THEO 2203
Systematic Theology II
A continuation of the introductory study of what it is possible for us to know about God, humanity, sin, salvation, sanctification, the church, and the end of the world.
THEO 2203
Systematic Theology II
A continuation of the introductory study of what it is possible for us to know about God, humanity, sin, salvation, sanctification, the church, and the end of the world.
THEO 3403
The Person and Work of the Holy Spirit
The person and work of the Holy Spirit is studied in the light of Biblical teaching (with an emphasis on a Wesleyan perspective). The activity of the Holy Spirit is traced through the Old and New Testaments, with special emphasis
upon the teaching of Christ and Pauline Pneumatology. The historical development of the doctrine is also considered.
THEO 4303
Church of God Theology
This course studies the distinctive vision and contribution of writers in the Church of God Reformation Movement (Anderson) to the understanding of the Christian life and sanctification, the Church, the eschatology in their
historical context. Issues of church polity and collaborative Ministries within this movement will also be considered.
THEO 4403
Theology of Ministry
This course clarifies and grounds the practical functions of pastoral ministry and congregational leadership in a biblical model of ministry as participation in God's continuing activity of reconciliation. We will consider theologically the relationship between God's and our ministry and some practical implications of this, as well as the role of personal formation in faithful ministry.
THEO 4923
Special Topics in Theology
This course is designed to address topics of special interest in theology. Topics will vary according to student interest and/or curriculum improvement needs.
Professional Ministry Courses
PMIN 1103
Foundations of Ministry
This is the first course in ministry for those who are preparing for ministry. Serious attention will be given to the nature of a call to ministry and an appropriate response. Through various testing instruments, observation and interview, the student will assess his/her temperament, interest, and gifts for ministry and/or other careers. Each person will receive assistance in setting personal and educational goals.
PMIN 1103
Christian Formation
An overview of what Christian Education is and how it is accomplished. Foundations, materials and methods, and para-church organizations are examined, as well as an introduction to spiritual practices and the importance of personal spiritual formation and its effects on Christian Education.
PMIN 3103
Homiletics I
The thrust of this course will be a study of the fundamental principles of sermon preparation. The lives and works
of renowned speakers will be studied via video, audio, and printed texts. The emphasis will be upon analyzing the content, methods, and skills that have distinguished these noted speakers. The steps of learning from the text, interpreting a text, arriving at a message, and designing a sermon will be followed in preparing the message. Students will gain experience in the preparation of their own sermons
PMIN 3123
Evangelism and Discipleship
A study of the nature, purpose and process of biblical evangelism and its application to various ministries. A study of New Testament discipleship principles and their application, with a special emphasis upon building disciplined relationships and small group ministry.
PMIN 3203
Homiletics II
Students will be guided in the techniques and skills of sermon delivery. They will gain experience in the
preparation and delivery of their own sermons in class and in chapel services. Videotaping facilities of the university will be utilized in recording a student's performance for the benefit of review and improvement of skills in oral delivery
PMIN 3713
Workshop in the Ordinances and Special Services
This course will feature a study of the ordinances of the Christian church including baptism, foot-washing, and communion along with such special services as marriage, funerals, dedications, and ordination. Biblical and theological backgrounds and practical aspects are emphasized. Actual services will be constructed. Attention will be given to appropriate use of music, Scripture, prayer, and other worship aids.
PMIN 4233
Nonprofit and American Church Law
The major focus is the legal rights, duties, and liabilities of nonprofit organizations and directors, officers, employees and volunteers relevant to (1) forming a nonprofit organization and establishing and maintaining tax-exempt status; (2) designated funds, reporting requirements, fiduciary duties and responsibilities, and liability; (3) clergy-penitent privilege, child and elder abuse reporting, and confidentiality; and (4) sexual misconduct, risk management, and lawsuits between Christ-followers. Some attention will be given to alternative means of conflict resolution and selected church and clergy tax and first amendment issues.
PMIN 4303
Leadership Formation
This course will introduce the student to basic leadership principles and methods. Students will be exposed to various leadership styles. Students will understand the principles of a personal leadership style, vision, mission and purpose. The student will examine the role of change, inspiration/motivation and servant leadership.
PMIN 4893
Practicum in Pastoral Care
This course will focus on the development of skills and understanding in order to adequately provide Christian care for persons in life crisis. Through classroom lectures required readings and supervised work in the clinical
environment, students will be given the opportunity to demonstrate the practices involved in providing appropriate pastoral care.